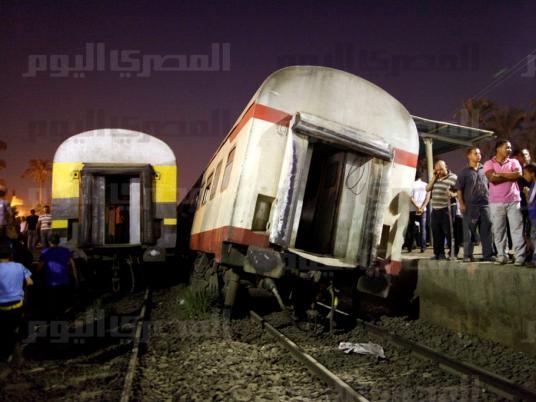 The driver of a train that derailed at the Badrashin train station in Giza on its way to Cairo from Assiut has been ordered detained for four days pending investigation.
The Public Prosecution is holding Magdy Samuel while investigating possible charges against him for negligent homicide. Samuel denied the charges, saying that the train had been examined by maintanence officials and that he did not agree to drive it until it was cleared by inspectors.
The maintanence technician in charge of the train has also reportedly been summoned for interrogation.
Yesterday, 19 Central Security personnel were killed and other 120 were injured after the train derailed, the Transportation Ministry said in a statement on Tuesday.
The accident comes one week after appointment of new Transportation Minister Hatem Abdel Latif, as part of a recent Cabinet reshuffle that brought in 10 new ministers.
The train was carrying 1,328 recruits and was 12 carriages long, an informed source told Al-Masry Al-Youm.
Prime Minister Hesham Qandil said that the government cannot make up for the victims' families loss of their relatives, but "will pay compensations to families of the injured and killed."
The Cabinet has decided to pay LE30,000 to families of the dead.
In its first official comment on the accident, the Armed Forces denied that the train was a military one.
Armed Forces Spokesperson Ahmed Mohamed Ali said on the Armed Forces' Facebook page that "the Badrashin train is not a military train; it is a civilian train used to transport soldiers during their commutes, and the Armed Forces never manages such trains."
Ali also offered his condolences to the victims' families and the Interior Ministry
Train crashes and accidents have been on the rise over the past few years. Monday's train crash came hours after two railway crossing watchmen were referred to a criminal court on charges of negligence that led to the death of at least 51 children when a train hit their school bus in Manfalut, Assiut Governorate in November.
The incident forced former Transportation Minister Mostafa Galal al-Saeed to resign.