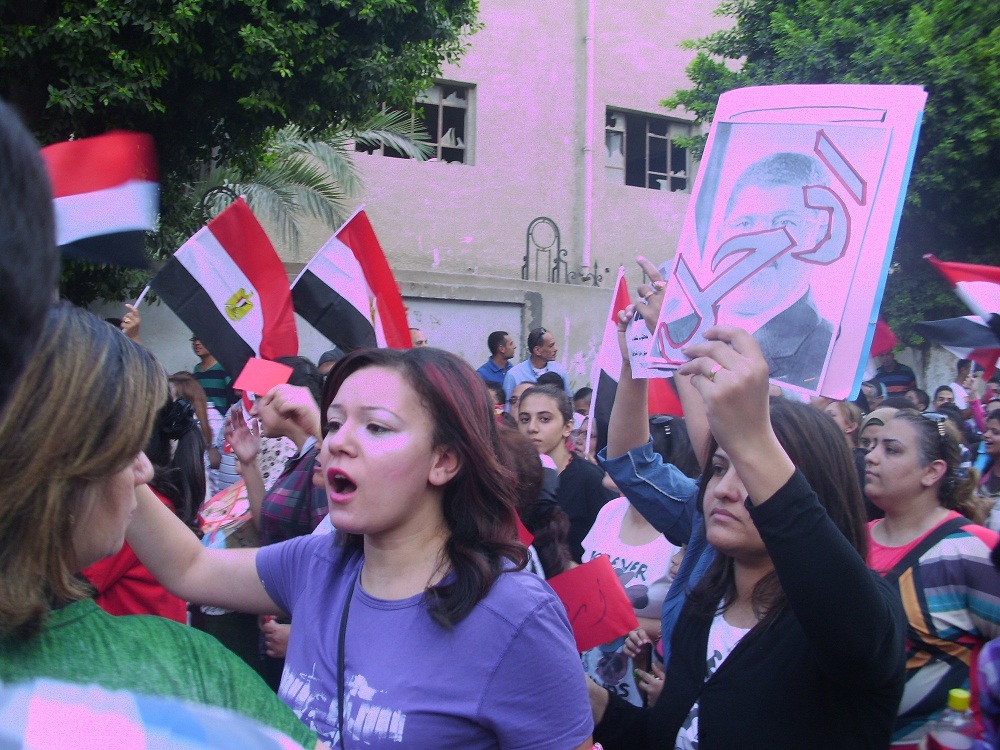 Dalga, Minya – Burned façades, locked doors, looted shops, and dead calm prevail in an alleyway where several Coptic families live in the village of Dalga. A new sense of division has gripped the remote village west of Deir Mawas, 300 kilometres south of Cairo, in Upper Egypt's Minya governorate.
Copts in the village are afraid. People in the area are conservative and pious, whether they are Muslim or Christian. Defense Minister General Abdel Fattah al-Sisi's announcement on Wednesday 3 July, that Muslim Brotherhood President Mohamed Morsy had been toppled gave many Muslims the impression that their religion had been unfairly targeted.
After the news broke, dozens took to the streets rejecting the ouster of the elected president. An "estraha," a building used by Coptic priests for rest and reflection, was set ablaze. At least three houses and shops, all owned by Copts, were burned down and eight people were injured. One remains in critical condition.
Narratives differ on how protests against the ouster of Morsy turned into violence. But its onset was no doubt the burning of the "estraha" affiliated with the village's Catholic Church, Mar Girgis. Major Mahmoud Hassan Mashhour, head detective at the Deir Mawas police department, could not confirm the exact cause behind the attack.
Collecting information on the ground in Dalga is not easy. A companion from the village advised against taking pictures and wandering aimlessly around. A negative perception of those working in the media is ubiquitous here. And this wariness is likely a consequence of the Morsy administration's propaganda against what it called the "corrupt media."
People in the village are used to dealing with their issues and performing their daily duties in a discreet manner. Speaking to Egypt Independent, they voiced their dissatisfaction with the pastor of the local church, Ayyoub Yousef. When children engage in activities and prayer at the church, which also serves as a nursery, it conflicts with the prayer calling at the adjacent Nasr mosque, said a villager who did not want to be named.
Major Hassan, speaking to Egypt Independent from the Deir Mawas police department that had earlier been besieged by dozens of pro-Morsy protesters who were demanding Morsy's reinstatement, said that there was currently a court case involving the plot of land on which the "estraha" was built.
The dispute is between the Harabawy family and the church. The family claims that a 100 square metre area on which the "estraha" is erected is in fact their own property, Hassan said, adding that an investigation is still ongoing to determine who is responsible for its destruction.
After the burning of the building, the pro-Morsy march continued and rioters attacked Coptic houses and shops, in particular those owned by Nady Mehanna Magar. His sister, a woman in her 50s, spoke to Egypt Independent but said that she did not know who the assailants were.
Ms. Magar and her daughter were sitting on the ground behind a half-closed door in their modest home. Egyptians in rural and non-urban areas tend to keep their front doors open, a tradition that imbues a feeling of safety and generosity. Egypt Independent had the following conversation with Ms. Magar:
EI: Good morning, aunt (a word commonly used in Egypt and in the Arab world as a sign of respect towards older women).
Ms. Magar: Good morning, son.
EI: I'm a journalist from Al-Masry Al-Youm. May I come in?
Ms. Magar: Sure, welcome.
EI: How are you?
Ms. Magar: As you can see, we are frightened. We can't even open the door.
EI: What happened?
Ms. Magar: On 3 July, they kept knocking heavily on our doors. They wanted to rob us. They think we are behind Morsy's ouster. We closed our doors and went upstairs to our roofs. They threw bottles filled with benzene (Molotov Cocktails) at our houses.
EI: Were you able to identify any of the criminals?
Ms. Magar: No, I was on the roof. Are you from the government (meaning from the police)? Are you Muslim or Christian?
EI: I'm a journalist, I'm Muslim.
Ms. Magar: Ok, son.
EI: Why do you think this happened to you, aunt? Do you support Morsy?
Ms. Magar: I know nothing, I know food and drink. I'm illiterate, my daughter and son are illiterate. Nothing in my life has to do with Morsy or Sisi.
EI: Did anybody lock you inside the house after the clashes?
Ms. Magar: No. We are scared. It is the third day in a row that we lock our door. We have run out of food.
Rumors in the village swirl that Nady Mehanna Magar, a merchant who trades fertilizers and foodstuffs, fired gunshots in the air to celebrate the toppling of Morsy, but this speculation is refuted by the official account of the incident as recounted by Major Hassan.
Hassan says that thieves took advantage of the protest that night and attacked the shops and the houses. Nady Mehanna Magar fired into the air and, when this failed to deter the assailants, tried to defend himself and his property. Several people suffered slight injuries and one person is in critical condition.
Mostafa Nasr, a bearded Salafi in his 40s, told Egypt Independent that the perpetrators of the attack are "thugs and criminals" and that "no decent Muslim would attack Nady or his properties." Nasr adds that Muslims in the village protect and care for their Christian neighbors.
Major Hassan said that the police intervened that night to control the situation. Many Muslims helped Magar after merchandise worth an estimated LE500,000 was stolen. Muslim neighbors, some of whom belong to Islamist factions, saved what was left of Magar's goods and offered to store them in their houses for him until calm was restored, Hassan said.
The police have identified 25 suspects in the looting that took place that night, arresting four of them for possession of stolen merchandise, Hassan adds.
Despite the help Muslims offered their Coptic neighbors, many families do not feel safe. At least two families have opted to leave the village, as indicated by locks placed on their gates. Major Hassan says those who have chosen to leave, including Nady Mehanna Magar, have been temporarily relocated for their safety.
It is likely that sympathy for Morsy originates from a love of Islam, as many saw Morsy as the religion's highest representative in the country. For this reason, the protesters in Dalga demanded that Morsy be reinstated as president.
Mohamed Taha, a bearded primary school teacher in his late twenties, says: "All of the presidents in Egypt were Muslims but none of them applied Sharia." He claimed that having a president who belonged to an Islamist faction was the sole guarantee for the application of Sharia.
Deir Mawas is still experiencing turbulent times as of Friday July 5 and Saturday July 6. On Friday, protesters attacked a checkpoint in Dalga near the western desert road. An armored vehicle was shot at and destroyed and four other police cars were severely damaged after protesters hurled rocks at them.
The Dalga police headquarters came under siege that same night, as protesters were allegedly attempting to storm it. "We had to evacuate the office. Surprisingly, nobody stormed it after the evacuation. Apparently they are trying to harass the police," says Hassan.
Anti-police sentiments are commonly expressed in conversations between locals. "Why are they only distributing water and juice to anti-Morsy protesters? Aren't the people in Rabaa al-Adaweya Egyptian too?" a villager wondered.
Army helicopters flying in Cairo's skies dropped Egyptian flags on the protesters in Tahrir Square. After Sisi's statement on July 3, different TV channels showed footage of police distributing water and juice in the square.
"The Interior Ministry following in the footsteps of the armed forces' decision to side with the people is infuriating people here," a police captain said during a discussion between police officers at the Deir Mawas police department. Islamists, they concluded, believe that the police allied with the army in order to topple Morsy.
The situation in Upper Egypt is expected to deteriorate further, putting the focus on the region's high rates of illiteracy and poverty. Official reports estimate that 51% of the population in rural areas in Upper Egypt live under the poverty line and cannot afford basic needs, such as food, medical treatment, clothing, and education. Minya governorate has the highest illiteracy in Egypt. A report last year from the Central Agency for Public Mobilization and Statistics (CAPMAS) estimated that 38.2% of the population in the governorate is illiterate.