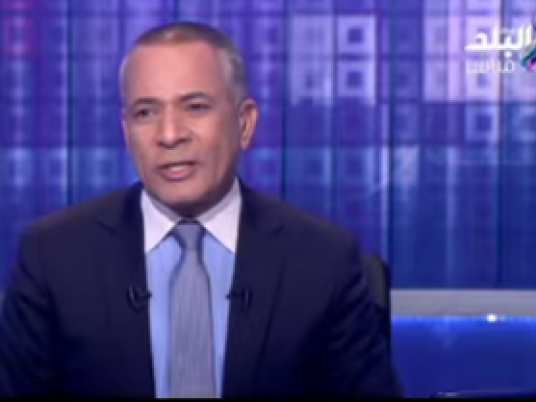 Social network users have criticized Sada el-Balad satellite TV presenter Ahmed Moussa for airing personal photos he said could feature newly elected MP and film director Khaled Youssef with an unidentified woman in purportedly intimate positions.
The controversial media host, known for his strong connections with security apparatuses and his involvement in slander litigations against opposition figures, had screened photos of a man whose face resembled Youssef's. Apologizing to his viewers for the step, Moussa urged Youssef to give a statement to either deny or confirm that the photos were his.
Twitter users are using multiple hashtags to call for Moussa's prosecution, deeming his action as a crime and a violation of privacy, especially with the alleged photos still unconfirmed as Youssef's.
"Exposing people's personal lives is a flagrant violation of the Constitution, religion and traditions," tweeted @WafaaMSbry. "Is it a coincidence that this comes after Youssef declared he would object to amending the constitution through parliament?"
Youssef, an ardent supporter of the ouster of former presidents Hosni Mubarak and Mohamed Morsi, had been quoted as saying that he would oppose suggestions by some politicians to extend President Abdel Fattah al-Sisi's presidential term.
"Is it ethical to screen personal photos of a citizen, make a scandal of it, then ask him whether they were authentic?" tweeted prominent novelist Alaa Al Aswany.
Moussa's action even drew criticism from from a colleague who fell into the same violation.
"What has happened with Khaled Youssef is neither religiously nor legally acceptable. Personal life is protected in the Constitution," tweeted Abdel Rahim Ali, another elected MP and media figure best known for airing records of opposition activists phone conversations in his TV show, a practice which gained him scathing criticism.
The Chamber of Media Industry, an alliance of 10 privately-owned satellite TV channels, urged Youssef to file a complaint in order for the chamber to address it based on a code of ethics it had adopted jointly with the Journalists' Syndicate.