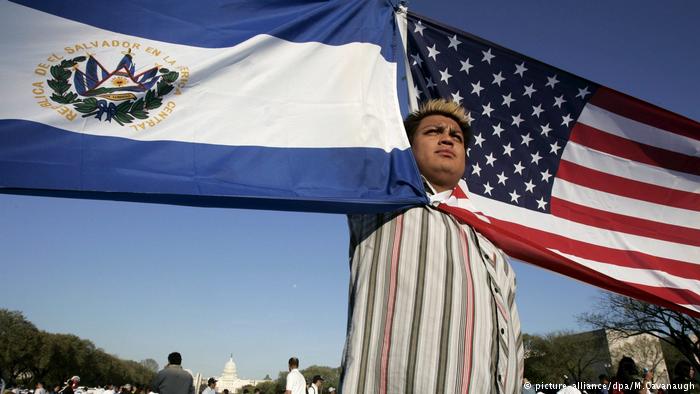 The US has threatened to deport tens of thousands of Salvadorans if they fail to leave the country by 2019. Democratic lawmakers have criticized the move, saying the president is "governing by fear and intimidation."
The White House on Monday announced its decision to end "temporary protected status" (TPS) for roughly 200,000 people from El Salvador, threatening deportation for thousands of families if Congress fails to protect their status through legislation.
US Homeland Security Secretary Kirstjen Nielsen said the measures aimed at protecting Salvadoran families displaced by major earthquakes at the turn of the century could no longer be extended since the "original conditions caused by the 2001 earthquakes no longer exist."
"Only Congress can legislate a permanent solution addressing the lack of an enduring lawful immigration status of those currently protected by TPS who have lived and worked in the United States for many years," the Department of Homeland Security said in a statement.
With the White House's decision, Salvadorans protected under TPS will have until September 9, 2019 to leave the country, with more than 135,000 households in California or Texas in jeopardy, according to the Center for Migration Studies. TPS protections have also been terminated for 59,000 Haitians and 5,300 Nicaraguans.
'Fear and intimidation'
Democratic lawmakers have criticized the move, saying El Salvador remains one of the world's deadliest places to live. Nevada Senator Catherine Cortez Masto targeted US President Donald Trump's apparent anti-immigrant stance in a critical statement on the policy decision.
"Today's decision is a poignant reminder that we have an anti-immigrant president who turns his back on hardworking families and insists on governing by fear and intimidation," said Masto said.
"Revoking TPS for Salvadorans will not only tear families apart, deportation could expose thousands of them to potentially dangerous and life-threatening situations."
El Salvador has one of the highest homicide rates in the world, clocking in 116 deaths per 100,000 people in 2015, according to UN figures. The violence is largely due to organized criminal networks and notorious gangs operating in the country.