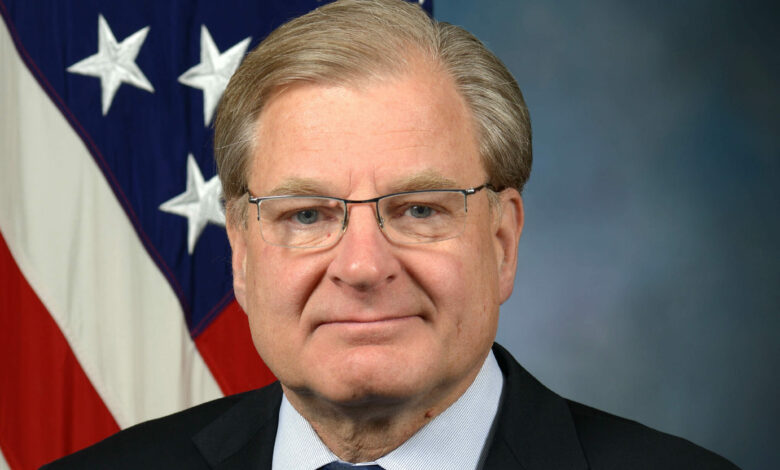 The US ambassador to Libya Richard Norland sat down for an interview with Al-Masry Al-Youm to discuss his thoughts on Libya's current crisis and its future.
He explained that Egypt plays an invaluable role in ensuring Libya's security and stability, and serves as the key to finding an agreeable solution.
Norland also discussed topics such as the importance of following Libya's sovereign will in setting its own decisions, the US's regret over its involvement in the 2011 instability, the key players in the Libyan elections, if the Wagner boss's death may have any impact, and why following the political track is preferable to a military solution.
He concluded with what he believes is the best course of action to ensuring Libya finds peace.
Q: How do you see the crisis in Libya now, and what role does Egypt play in resolving it?
A: Libya has been going through many crises since 2011, and it needs elections to get out of them.
Egypt is an important factor and can play a very big role in the Libyan issue.
It is a good partner for the international community, especially in this matter. Cairo and Washington both agree on the importance of Libya's stability and security.
During my work in Libya over the years, I visited Cairo several times to discuss matters related to Libya.
There I saw common views regarding importance of having a credible road map for holding elections, which I consider the key to resolving the Libyan crisis.
Q: I understand from your words that there is coordination to get Libya out of the crisis it has been in for over a decade?
Indeed, we are working to help Libya to reunite itself, legitimize its institutions, and protect its sovereignty after nearly 12 years of turmoil.
Therefore, we are keen on holding elections, and Egypt has been invaluable as a platform for negotiations in the past two years.
These have helped achieve progress towards reaching an understanding on electoral laws that will allow the elections to take place.
Other countries have also played a role, such as Morocco, and the recent progress we have seen in the (6+6) formula has once again opened the way for potential progress.
Q: Certainly the United Nations Special Representative has a role in this regard. How do you see that?
A: The UN envoy to Libya, Abdallah Batili, gave a very good briefing to the Security Council earlier and stressed the need for negotiations that bring together all main parties at the table to try to reach an agreement on a real and credible road map.
The way we look at this matter is thanks to countries like Egypt, but we need additional pressure and participation from the international community, through the UN, to help the Libyans seal the deal.
Libya is in dire need of this because of tensions, and we have seen multiple clashes – recently, 55 people were killed and hundreds injured, and this is very serious.
And if you look at southern Libya, where there are borders with Sudan, Chad and Niger, you will find all kinds of unrest.
Q: You say that elections are the key to resolving the Libyan crisis. But is it the magic wand?
A: Elections do not solve everything, but they are essential to help the country restore its unity and the legitimacy of its institutions.
Egypt, which sees this as well, has always called for stability in Libya, especially within politics, the military and its economy.
Cairo participated in the Berlin Conference and has cooperated with US, European Union, and the UN with which it  agreed to form a supreme financial committee, which will try to negotiate between the various parties on how to spend Libya's huge oil revenues.
Egypt and the US encourage the Libyans to do their duty in this regard, so we can agree on how to spend the money.
Afterwards, we must reach on a consensus for a method to ensure the money is being used in the right place – one that serves Libya.
Q: You talk about hopes for holding elections. But is Libya ready for that?
A: I think that all Libyans want a political settlement and elections, for the submission of all armed groups, under the framework of an agreed upon national security structure through a unified army and police.
But so far the country is divided.
Despite that, it will be possible to hold elections, though some mercenaries continue to play a destabilizing role.
I think that the Russian military "Wagner" group is the best example of this, but it would be wrong to say that elections cannot be held even amidst these foreign fighters when plans were in the works for elections in December 2021.
There were other factors that stopped that electoral process.
Q: Speaking of the Wagner group, you said in previous statements that its members have influence inside Libya. What impact will the killing of the leader of the group have on Libya?
A: I think that the death of Wagner leader Yevgeny Prigozhin, and talking about the extent of its impact on the presence of those elements in Libya, is the big question that everyone's asking.
However I don't have an answer for you yet regarding the repercussions of his death. I do not know if it will prove fruitful or not.
Q: You talk about Washington's role in resolving the crisis, but some Libyan politicians believe that the role of the US and the UN is a major reason for why it has not been resolved in over 10 years. What do you say about that?
A: I have heard our leadership on several occasions say that the US feels responsible for the unrest that erupted in Libya, because the intervention in 2011 unleashed events that no one expected.
Our goal was not to overthrow the Gaddafi regime, as we were trying to protect civilians, but what happened happened.
So we want to play a role in helping. We want to stabilize Libya again, and we believe that it is better to do this through political means, even if other actors have chosen to use the military.
We want to use our influence to try to keep the focus on the political track, and there are various regional parties or neighboring countries that can play a role with Libya.
Q: This means that Washington and other countries believe that the political solution is the best?
A: Of course, what we have seen in the past two years is a recognition by all the major external actors that the best way forward to solve the Libyan crisis is through a negotiated solution.
We have very positive engagement with a lot of different actors to reach the same goal.
The outside world cannot impose any solution, and the Libyans themselves are the ones who have to decide what is acceptable and what is not.
Q: When will elections be available in Libya? Especially since we have heard more than one election date and it has been postponed several times?
A: The only date I know of is December 2021 and of course it didn't happen.
Since then, people have been working since to try to build a credible road map towards the elections.
I can't give you a date, but I can tell you that I think there now seems to be a renewed interest in everyone working hard together to find a credible solution via this road map.
Because the situation in the country and in the region is unstable, and the Libyans are aware of this.
Libya is witnessing a calm day now, but tomorrow may be tense.
Therefore, I believe that all leaders in Libya feel pressure from the people to agree to the elections, and this is the process that is being negotiated now, but there is no history.
Determined, we can say that it is the real date for polling operations.
Q: You were against Saif al-Islam Gaddafi as a candidate for the presidency. Why might his candidacy be one of the Libyans' choices?
A: This is not true, as we are with the will of the Libyans. They are the ones who decide who should be a candidate and who should not, especially as there are several controversial candidates.
Part of the debate about electoral laws revolves around how to determine who can and cannot be a candidate.
This is something the Libyans must decide, and the US will respect the will of the Libyan people by holding free and fair elections.
Q: Elections remain a thorny issue. Do you think that the conditions for them being fulfilled?
A: Paving the way for successful elections requires a number of conditions to be met.
I think the effort now is to try to meet those conditions, to negotiate an agreed package, and see if there are efforts that are done properly – but I can't say how long this will take.
It is not easy to create a road map, but factors are pushing Libyans to agree because if the status quo continues, I think they will realize that it is not necessarily in their interest.
Q: So, Libya needs an interim government to create the appropriate conditions for holding elections?
A: I think it would be good for a temporary government of technocrats whose only function is to lead the country to elections, and it must be negotiated with everyone, including the current government.
What the UN envoy proposes, and we support, is that the House of Representatives, the High Council of State, the Presidential Council, and the national army all sit together.
The Libyan and the national unity government will be at the table, whether the leaders themselves or their representatives, to agree on a road map in preparation for the elections that would answer two questions.
Who can run and what government will lead the country to the elections, which must be conducted in a neutral and fair manner, and of course the negotiations, will be difficult.
Q: How do you deal with two governments in Libya? Is there an opportunity for them to negotiate? Why did you not impose sanctions on those whom you see hindering progress in resolving the crisis? Are sanctions really effective or not?
A: We are dealing with the reality in Libya, which is that the country is divided, so we are handling both sides.
For example, our army will invite officers from the West and from the East to conferences or some technical discussions.
We would like Libya to be united so that we can deal with one partner.
But in order for them to unite, we understand that we need to deal with both, to work on issues that cannot wait for the country's unification such as in combating terrorism or other issues.
As for sanctions, it is a tool reserved by the United Nations on those who obstruct the electoral process, and this tool must be used carefully, because once in place it will be difficult to reverse it.
Q: Everyone stresses the importance of stability inside Libya, but do you think that the unrest in Niger will affect the ongoing situation in Libya? Will Niamey become another Libya?
A: Yes, everyone realizes that Libya has the ability to play a very important role in the region, because it has wealth, it has money, and it enjoys a strategic geographical location between Europe, Africa and the Middle East.
However I do not know what will happen in Niger, and I also know that the Libyans are very concerned because of the existence of ethnic and tribal ties across the border.
And they have already seen the instability in Sudan, and there is instability with Chad, therefore the Libyans need stability at the borders of Niger, and we do not want Niger to be divided like with Libya.
Q: What are the US and UN's mechanisms and tools to end the war in Libya? Away from politics, is your birth in Morocco, while your parents were working in a diplomatic mission, the reason that prompted you to work in the Maghreb, where Libya is located… Or is it just a coincidence?
A: The UN and the US seek to end the war in Libya, done through the good offices of the Secretary-General, the Special Representative and the United Nations Support Mission in Libya.
This is the platform to help Libyans reach a negotiated solution. And then there is the participation of international partners, such as Egypt, Turkey, the United Arab Emirates, France, Italy, Germany, the United Kingdom and others to provide external support for peace-making.
That's the best answer I can give to this question.
Regarding my own background, yes I was born in Morocco, and this was my father's first position in the US State Department – however my work in Morocco, especially regarding Libya, is pure coincidence.