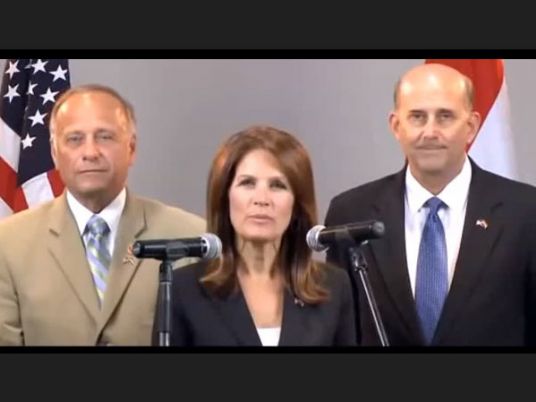 During their tour of Egypt last weekend, a delegation of American congressmen from the Republican Party held a news conference, which was broadcast on Egyptian media, in order to thank General Sisi and the current interim government for ousting Egypt's first elected government and fighting Egypt's war on terror.
In the statement by Michelle Bachmann from Minnesota, Louie Gohmert from Texas and Steve King from Iowa, three Republican members of the lower house of U.S. Congress, all vowed to defend the US$1.3 billion in annual American military aid to Egypt, despite President Barack Obama's threat to review the aid.
Many media analysts in the United States considered the statement not only unusual, but also highly ill-informed. In her statement, Bachmann falsely insinuated the Muslim Brotherhood was behind the 11 September 2001 attacks when she said, "We have seen the threat that the Muslim Brotherhood has posed around the world. We stand against this great evil. We remember who caused 9/11. We remember who it was that killed 3,000 brave Americans."
The Republican delegation dismissed the human rights violations in Egypt as merely an attempt to regain order and fight terrorism. Gohmert called the Muslim Brotherhood "blood-thirsty" and compared General Sisi to the first American president George Washington. Meanwhile, King tried to draw similarities between the 30 June uprising and the American revolution.
Many Egyptians viewers may have been surprised to see this public statement, which they might have considered a sudden shift in American policy, as it directly conflicts Obama administration's previous willingness to work with Egypt's elected government under the Muslim Brotherhood. While Obama condemned the killing of 1,000 unarmed protesters and the arrest of the political opposition, the three congressmen lauded the new Egyptian government for their actions.
This statement is however telling of the American political landscape, which is very polarized. The American Congress, from which these three Republicans hail, is known as a place for bickering and gridlock. According to the latest Gallup Poll for August, the American congress as a whole has an approval rating of just 14 percent. This is even lower than the Zogby Research Services poll of former President Mohamed Morsy's approval rating just before his ouster, which was 28 percent.
In such a politically divisive environment, Republicans in the U.S. Congress have long been critical of Obama's policies and initiatives. Currently, the Republican-led House of Representatives is still fighting to defund Obama's landmark health reform legislation, which was signed into law in 2010 and is seen as one of the major accomplishments of his presidency.
Additionally, a chance to criticize Obama's foreign policy stance, as well as to build relations with foreign leaders, is an attempt for the Republican congressmen to build their political portfolio of experience, especially in case any of them should run for higher office, as Bachmann did in 2012.
Although the press conference in Egypt was odd, media analysts say it is an attempt by the Republican congressmen to appeal to far-right, Islamophobic voters and follow the narrative of being hard on terrorism. In an interview with the New York Times, Samer Shehata, a political scientist at the University of Oklahoma who studies the Brotherhood agreed. "We have a confluence of interests among the coup leaders in Egypt and Islamophobes in the [U.S.] Congress," he said.
Bachmann, who lumped together the Muslim Brotherhood and Al-Qaeda in her statement, is known for her controversies in the past. Last year, Bachmann accused Huma Abedin, an Arab-American who was working as Deputy Chief of Staff under Secretary of State Hillary Clinton at the time, of being a secret Brotherhood operative who had penetrated the U.S. government and was sending information to the Egyptian government.
The U.S. Congress has seen controversies surrounding Islamophobia erupt among other congressional members as well. Last year, after the Governor of the U.S. state of Tennessee had hired a Muslim on his staff, accusations were thrown about Islamic "infiltration" of the U.S. government and the far-fetched possibility of adopting Shariah Law in Tennessee. Subsequently, during the Republican primary election, Representative Diane Black felt pressured to be vocal against Shariah Law. "I understand the devastation that Shariah law could mean here in our country, and I'm a sponsor of a bill that will once again say that the United States Constitution is our law and that it is the supreme law," she said in an interview with National Public Radio.