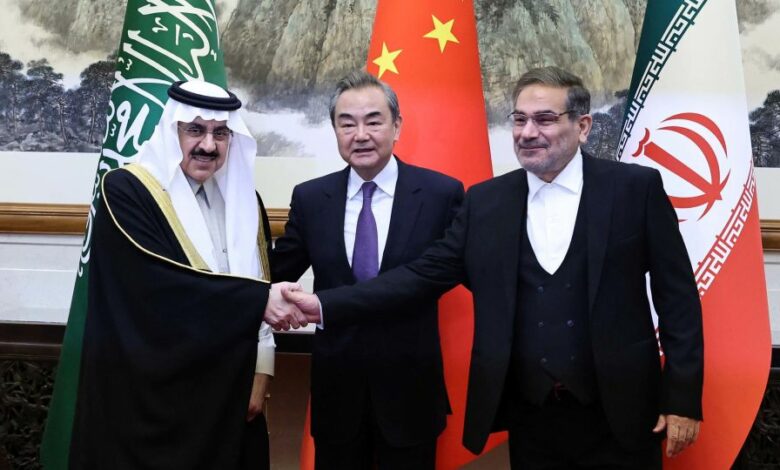 The recent Saudi-Iranian rapprochement is one of the most important elements that must be relied upon in realigning the Middle East region, Journalist and managing director and editor-in-chief of Al-Masry Al-Youm, Abdellatif al-Manawy, said, pointing out to a decline in the US role in the Middle East and the Arab countries.
An absence of the US in the Middle East region has left a vacuum that has attracted others to intervene and play a positive role in the region.
 China has become a prominent figure which mediated the rapprochement between Saudi Arabia and Iran, Manawy said.
Manawy added, in an interview with Al-Arabiya channel, on Wednesday, that the agreement between Tehran and Riyadh  removes tension in the Arab Gulf region.
This is especially evident since Saudi Arabia represents the Sunni spearhead against the Shiites represented in Iran.
Manawy explained that "Saudi Arabia, with this agreement, will represent one of the bridges for the restoration of relations between Iran and other Arab countries,"adding that rapprochement will be in the interest of all the people of the region in general."
The Saudi-Iranian rapprochement is a surprise to the region as a whole, he continued, pointing out that the "Saudi move was unilateral and did not have a degree of coordination, but the rapprochement must be viewed positively."
The agreement with Iran does not mean resolving all differences, the Saudi Foreign Minister, Faisal bin Farhan, said Sunday evening, expressing his hope for turning new page with Iran and strengthening prospects for cooperation, coordination and dialogue.
Bin Farhan said, in an interview with Al-Sharq Al-Awsat newspaper, that he looks forward to meeting Iran's foreign minister soon, based on what was agreed upon," stating that the most important requirement for turning a new leaf with Iran is its commitment to what was agreed on.
"Iran is a neighboring country whose stability and development is in the interest of the stability of the region," he said, pointing out, "Iran's continued development of its nuclear capabilities undoubtedly worries us."