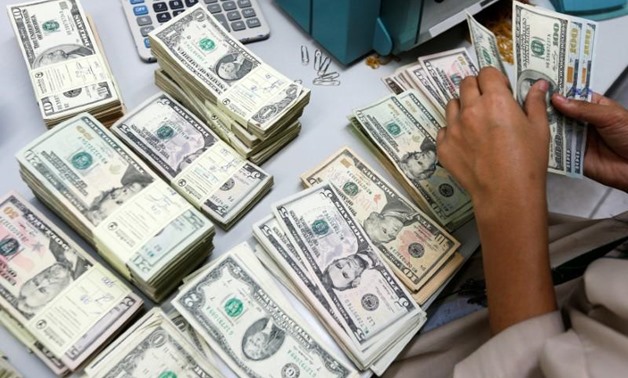 The price of the US dollar against the Egyptian pound stabilized in mid-trading, Wednesday, February 8, recording at the Central Bank of Egypt LE30.25 for purchase and LE30.35 for sale.
A slight comparison to an increase in the Central Bank and a number of Egyptian banks at the beginning of trading on Tuesday.
As long as banks and the banking system in Egypt are in control of the market regulation mechanism, the price of the dollar will remain flexible, Mostafa Badra, an economist, said, commenting on the price of the dollar crossing LE30.
Badra added, in previous televised statements, that the black market has almost disappeared, as the official banking system has taken reigns of the market, and banks have become the main determinant of the dollar price.
For his part, Mohamed Shady, a researcher at the Egyptian Center for Strategic Studies, said that the central bank seeks to reduce pressure on the cash reserve, because the closer the price of the dollar in the central bank is to the price on the black market, the less pressure on the US dollar occurs in the central bank.
He added in televised statements that when the black market ends completely and the price of the dollar in Egyptian banks becomes equal to the black market: stability will occur and then the price of the dollar will begin to decline.
US dollar price in Egypt on Wednesday:
National Bank of Egypt
LE30.15 for purchase
LE30.25 for sale
Banque Misr
LE30.15 for purchase
LE30.25 for sale
Housing and Development Bank
LE30.25 for purchase
LE30.35 for sale
Commercial International Bank
LE30.25 for purchase
LE30.23 for sale
Arab African Bank
LE30.23 for purchase
LE30.28 for sale
Abu Dhabi Islamic Bank
LE30.3 for purchase
LE30.35 for sale
ALEXBANK
LE30.25 for purchase
LE30.35 for sale