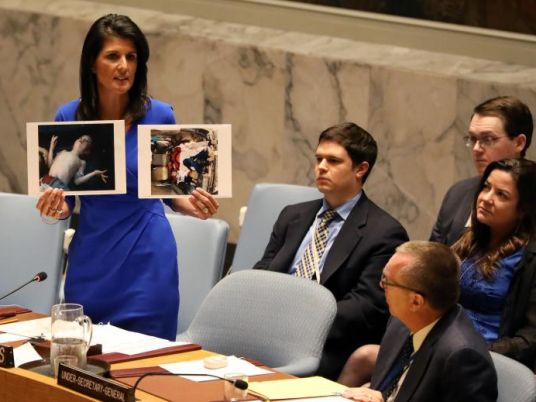 US Ambassador to the United Nations Nikki Haley said on Wednesday she will visit Turkey and Jordan from May 19-25 to see how Syrian refugees "are coping, day in and day out," to see UN humanitarian work and highlight the US aid response.
It will be the first overseas trip by Haley, a member of President Donald Trump's cabinet, and follows a bid by Trump to temporarily ban refugees from entering the United States and to cut funding to the United Nations and its agencies.
"What is happening in Syria and its neighboring countries is a true humanitarian crisis. But those who accuse the US of heartlessness in the face of this crisis are wrong," Haley wrote in the Wall Street Journal newspaper on Wednesday.
"No country has invested more in protecting, housing, feeding and caring for Syrian refugees than the US We have provided nearly $6.5 billion in emergency assistance for Syria since the start of the crisis," she wrote.
Haley said she would talk to government leaders about how US programs to help refugees are working. She also plans to visit refugee camps and families, US funded schools and to witness UN efforts to ship humanitarian aid into Syria from Jordan and Turkey.
"With American help, Syria's neighbors have made the difference between life and death for millions of Syrians. The US and the UN will continue to do a great deal of heavy lifting for these desperate people," Haley wrote.
Haley's trip coincides with Trump's maiden trip abroad to Saudi Arabia, Israel, Italy and Belgium.
A crackdown by Syrian President Bashar al-Assad on pro-democracy protesters in 2011 led to civil war and Islamic State militants used the chaos to seize territory in Syria and Iraq. Half of Syria's 22 million people have been uprooted and more than 400,000 killed.
Reporting by Michelle Nichols; Editing by David Gregorio