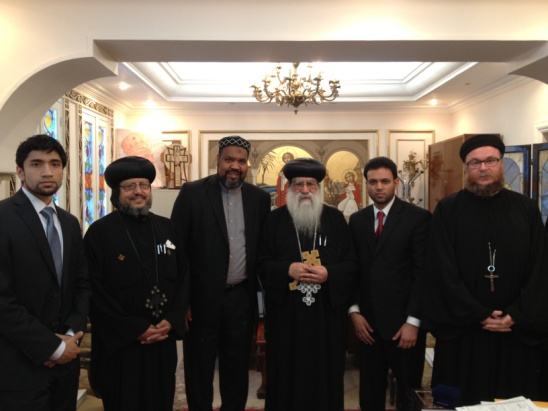 After meeting with government, civil society and religious leaders, American religious envoy Rashad Hussain wrapped up his five-day visit to Cairo on Wednesday.
Hussain, US President Barack Obama's special envoy to the inter-governmental Organization of Islamic Cooperation, was accompanied by a senior American Coptic priest and imam to highlight US commitment to religious freedom for people of all faiths. During the visit, the officials discussed a wide range of issues, a statement from the US Embassy in Cairo said.
"I'm honored to be back in Cairo and enjoyed meeting Egyptians from all walks of life at this pivotal moment in the country's history. I look forward to building on the ideas we discussed as we further develop partnerships in the mutual interest of our countries," Hussain said in the statement.
The delegation met with the Coptic Orthodox Church's acting pope, Bishop Pachomius, and Al-Azhar Grand Sheikh Ahmed al-Tayyeb.
Hussain also addressed worshipers at the historic Sultan Hassan Mosque during Ramadan prayers.
The special envoy's role is to deepen and expand partnerships between the United States and Muslim communities around the world.
Established in 1969, the Organization of Islamic Cooperation has a membership of 57 states and "is the collective voice of the Muslim world … to safeguard and protect the interests of the Muslim world in the spirit of promoting international peace and harmony," according to its website.