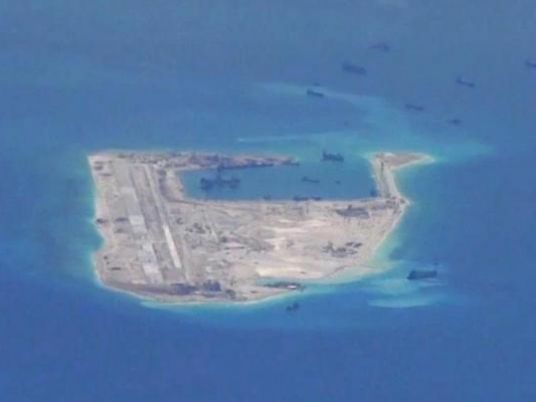 A Chinese fighter jet carried out an "unsafe" intercept of a US spy plane on routine patrol on Tuesday in international airspace over the East China Sea, the US Pacific Command said, as China again demanded an end to US surveillance flights.
The intercept involved two Chinese J-10 fighter planes and a US Air Force RC-135 reconnaissance plane, US Pacific Command said in a statement.
"One of the intercepting Chinese jets had an unsafe excessive rate of closure on the RC-135 aircraft. Initial assessment is that this seems to be a case of improper airmanship, as no other provocative or unsafe maneuvers occurred," Pacific Command said. It did not say how close the Chinese fighter came to the US plane.
"The Department of Defense is addressing the issue with China in appropriate diplomatic and military channels," the statement said.
China's Defense Ministry said it had noted the report and was looking into it.
"Judging by the report, the US side is again deliberately hyping up the issue of the close surveillance of China by US military aircraft," it told Reuters in a statement.
"Chinese military pilots consistently carry out operations in accordance with the law and the rules, and are professional and responsible," it added, without elaborating.
Chinese Foreign Ministry spokesman Hong Lei said such patrols seriously harmed China's security, and repeated a demand they stop.
"China has the right to take defensive measures," he told a daily news briefing, without identifying the site of the intercept.
Asked if the incident had been timed to coincide with high-level China-US talks in Beijing, attended by US Secretary of State John Kerry, Hong responded, "Ask the Americans."
In May, the Pentagon said two Chinese fighter jets flew within 50 feet of a US EP-3 aircraft over the South China Sea.
The Pentagon determined that the May incident violated an agreement the two governments signed last year.
Earlier this week, Secretary of State John Kerry said the United States would consider any Chinese establishment of an air defense zone over the South China Sea to be a "provocative and destabilizing act."
US officials have expressed concern that an international court ruling expected in coming weeks on a case brought by the Philippines against China over its South China Sea claims could prompt Beijing to declare an air defense identification zone, or ADIZ, as it did over the East China Sea in 2013.
China has claimed most of the South China Sea, through which US$5 trillion in trade is shipped every year. The Philippines, Vietnam, Malaysia, Taiwan and Brunei have overlapping claims.
Washington has accused Beijing of militarizing the South China Sea after creating artificial islands. Beijing, in turn, has criticized increased US naval patrols and exercises in Asia.
At a conference in Singapore last week, Defense Secretary Ash Carter said the US approach to the Asia-Pacific remained "one of commitment, strength and inclusion," but he warned China against provocative behavior in the South China Sea.