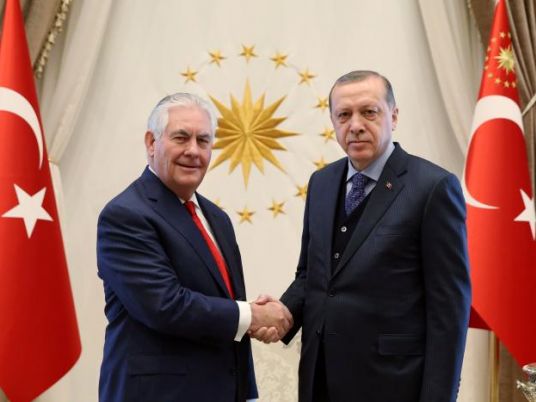 US Secretary of State Rex Tillerson held talks with Turkey's leaders on Thursday in a one-day visit to a NATO ally crucial to the fight against Islamic State but increasingly at odds with Washington and its European partners.
Tillerson held a closed-door meeting with President Tayyip Erdogan at which he was expected to discuss the US-led fight against Islamic State, including the planned offensive against its Syrian stronghold of Raqqa, where Turkey has been angered by US support for Kurdish militia fighters.
He earlier met Prime Minister Binali Yildirim and discussed efforts to defeat Islamic State in Syria and Iraq, Yildirim's office said. A US State Department official said Tillerson had emphasized Turkey's "important role" in regional security.
Erdogan has been incensed by Washington's readiness to work with the Kurdish YPG militia in the fight against Islamic State. Ankara sees the YPG as an extension of PKK militants who have fought a three-decade insurgency inside Turkey and are deemed a terrorist group by the United States and European Union.
US-Turkish relations have also been strained by the continued presence in the United States of Turkish cleric Fethullah Gulen, blamed by Erdogan for a failed coup last July and whom Ankara wants extradited.
Ties soured under former US President Barack Obama and officials in Ankara have been hoping for a reset under President Donald Trump. But there have been few signs of improvement.
Tillerson's visit comes less than three weeks ahead of a referendum at which Erdogan is seeking constitutional change to boost his powers, a move which his opponents and some European allies fear will bring increasing authoritarianism.
Senior US officials have said Tillerson will not meet the Turkish opposition during the visit, a sign that he will seek to avoid discussion of domestic issues while trying to keep the focus on the fight against Islamic State.
But his trip has been further clouded by the arrest in New York on Monday of an executive of Turkey's state-run Halkbank, who is accused of conspiring in a multi-year scheme to evade US sanctions on Iran.
Shortly after Tillerson's arrival in Ankara, Justice Minister Bekir Bozdag told broadcaster A Haber that the arrest was a "completely political move" designed to tarnish Turkey and Erdogan, and questioned the evidence in the case.
Tillerson is expected to say the arrest of Halkbank deputy General Manager Mehmet Hakan Atilla is a matter for the US justice authorities and not political. He is hoping his visit can focus instead on the campaign to retake Raqqa.
US officials say Tillerson, who has said the number one priority in Syria for President Donald Trump's administration is defeating Islamic State, will emphasize the importance of Kurdish YPG forces in the Raqqa offensive.