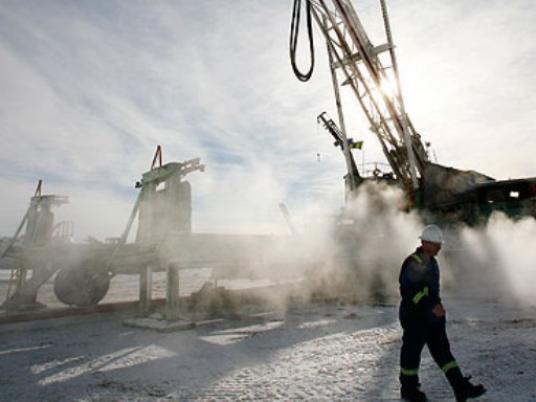 US shale producers are drilling at the highest rate in 18 months but have left a record number of wells unfinished in the largest oilfield in the country – a sign that output may not rise as swiftly as drilling activity would indicate.
Rising US shale output has rattled OPEC's most influential exporter Saudi Arabia and pushed oil prices to a near four-month low on Wednesday.
US production gains are frustrating Saudi-led attempts by the world's top oil exporters to cut supply, drain record-high inventories and lift prices.
Investors watch data on the number of rigs deployed in North American oil and gas fields as a leading indicator for output. But the rising rig count and frenetic drilling activity in the Permian Basin in West Texas is not all about pumping oil.
During the 2014-2016 downturn in global oil prices, the number of wells left incomplete grew as companies shut down rigs, laid off workers and retreated from the fields. When prices picked up, operators were expected to pump the oil from those incomplete wells before spending money on drilling new ones.
Instead, the number of incomplete wells has risen. A record 1,764 wells were left unfinished in the Permian in February, according to U.S. government data going back to December 2013. In February alone, 395 wells were drilled and only 300 completed. That was the highest drilling rate in the Permian in two years.
The surprise surge in unfinished wells indicates that investors, traders and oil market players may need to reinterpret rig count data.
"You would now be looking at the number of wells drilled and the uncompleted wells and not necessarily the rig count," said Bruce Bullock, director of the Maguire Energy Institute at Southern Methodist University in Dallas.
Reuters interviews with more than a dozen well completion service providers, oil and gas lawyers and industry experts show that some operators are drilling because their leases require them to do so within a specified time limit to keep their leases. But they may not be required to actually pump the oil immediately after they have drilled the hole.
To complete a well, shale producers stuff the hole with sand, water and chemicals at high pressure until the rock fractures and releases the oil contained in its pores.
There is typically a lag of a few months between drilling and completion in government data, so some of the increase in unfinished wells can be explained by rising activity.
Some leases do require firms to produce a minimum volume of oil. On those leases, many firms will frack one well and leave others incomplete. That allows them to meet their contracts with land holders but gives them flexibility to come back and pump the oil later.
Lease Values Jump
The value of land in the Permian has rocketed as oil prices recovered to around $50 a barrel, so oil firms are now scrambling to do the required drilling to keep leases they had left dormant.
"During the period where we had the downturn in price, there were a lot of leases that were in danger of being lost … they had to drill a well to maintain it," said Michael Stoltz, an attorney who represents energy firms in Texas for Stubbeman, McRae, Sealy, Laughlin & Browder Inc.
A new lease could cost the operator as much as five times more than a few years ago, said Joe Dancy, an oil and gas lawyer, who helps negotiations on such deals. Drilling costs are also on the rise, adding to the rush by producers trying to stay ahead of price inflation.
Fracking is more expensive than drilling and is time consuming. As much as 70 percent of well completion costs are tied to fracking, while 30 percent is for drilling, experts say.
Fracking crews are in short supply, which is another reason that oil firms have delayed completion.
As activity has picked up in the Permian, the labor market has tightened. Many oil workers found jobs elsewhere during the downturn, so rebuilding the workforce is taking time.
"There were a number of completions that were originally scheduled in first quarter and you've seen those slide to Q2 and that's really being driven by … access to service crews and things like that," said Tom Stoelk, the CFO and interim CEO of Northern Oil & Gas Inc, a producer focused on the Williston Basin in North Dakota and Montana.
More Inventories
The number of incomplete wells could complicate OPEC's attempt to balance markets, as they could be completed relatively quickly if the oil price rises.
Saudi Arabia is targeting a $60 per barrel price, and that could trigger those well completions and bring a new wave of supply to the market.
If all the incomplete wells in the Permian pump instantaneously, output from the field could jump as much as 300,000 barrels per day (bpd), according to consultancy Wood Mackenzie.
In February, the field accounted for about 2.1 million bpd, or about 23 percent of total U.S. crude output of about 9 million bpd, according to U.S. government data.
Locking in Leases and Costs
Landowners lease their land to energy companies for an upfront lump sum or signing bonus and subsequent royalty payments.
A standard lease lasts three years, with an option to extend for another two years, said sources who work with companies on such agreements.
Leases vary greatly. Some require drilling but no production, others require production, and some require a well every six months. None of them require firms to complete all the wells they drill.
Continental Resources Inc, which has about 185 such drilled but uncompleted wells (DUCs) in the Bakken in North Dakota, says that innovation during the downturn meant it could now complete those wells more cost efficiently.
"We're glad we saved all those wells," CEO Harold Hamm said at an industry conference this month.
Report by Devika Krishna Kumar ; Additional reporting by Ernest Scheyder in Houston and Swetha Gopinath in Bengaluru; Editing by Simon Webb and Paul Thomasch; Reuters