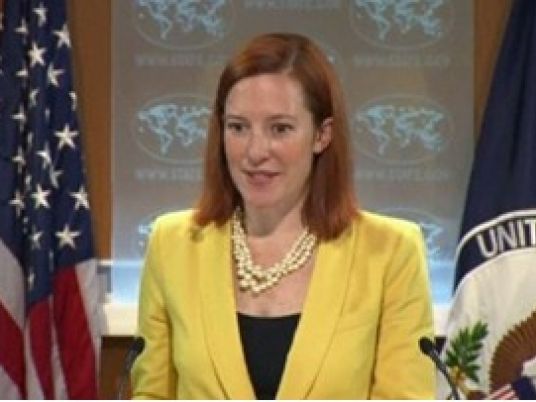 The United States hit out at the Egyptian government Wednesday for charges brought against journalists, slamming prosecutors for "an egregious disregard" for basic rights and freedoms.
"Let me be clear that the United States places great value on a free press," US State Department spokeswoman Jen Psaki said in a sharply worded statement.
"The government's targeting of journalists and others on spurious claims is wrong and demonstrates an egregious disregard for the protection of basic rights and freedoms."
Egyptian prosecutors referred 20 journalists working for Al Jazeera television to trial, including four foreigners, accusing them of "airing false news." Eight members of the group are being detained by the Egyptian authorities.
Psaki told reporters that Washington was "alarmed" by the reports that more journalists were now facing trial and insisted that no reporters "regardless of affiliation" should be "targets of violence, intimidation or politicized legal action."
"They must be protected and permitted to freely do their jobs in Egypt," Psaki added at her daily briefing.
She called on the military-installed government to reconsider the detentions of journalists, and the charges brought against them.
"We remind the Egyptian government publicly and privately that freedom of the press is a cornerstone of democracy and we urge the interim government to implement its commitment to this freedom," she added.
The US froze a chunk of its $1.5 billion in annual aid to Egypt late last year, amid growing concerns over the actions of the military that ousted elected Islamist president Mohamed Morsy in July.
In recent weeks, Washington has strengthened its stand in calling for the military-installed leaders to put Egypt back on the path to democracy.