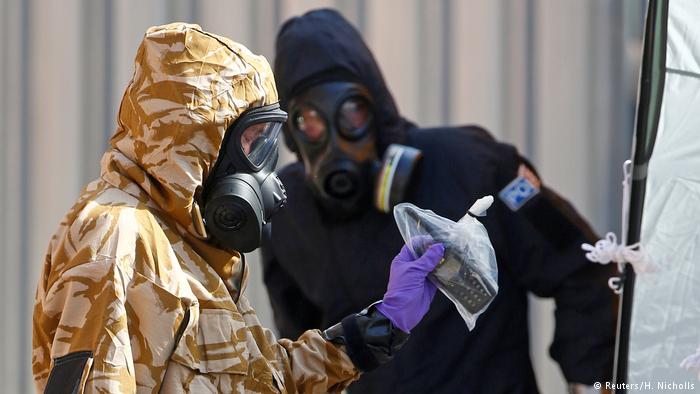 The sanctions come after the US said Russia used a chemical agent against an ex-Russian spy. Moscow remains hopeful of "constructive" dialogue, but the Kremlin is still weighing up how to respond.
The United States will impose sanctions on Russia for using a "lethal" nerve agent against a former Russian double agent and his daughter in Britain, the State Department said Wednesday.
State Department spokesperson Heather Nauert said Russia used "a 'Novichok' nerve agent in an attempt to assassinate UK citizen Sergei Skripal and his daughter Yulia Skripal" in southern English city of Salisbury in March.
The sanctions will target the Russian government for using "chemical or biological weapons in violation of international law," or against its own nationals, Nauert said in a statement.
The new sanctions target sensitive national security and defense goods, a senior State Department official said in a conference call with reporters. This reportedly includes the so-called dual use technologies and goods, which Russia can use for both civilian and military purposes. However, there would be case-by-case exceptions for space flight activities and commercial aviation, the official said.
The sanctions go into effect on or around August 22.
If Russia is unable to prove within 90 days that it will not use chemical or biological weapons and allow United Nations inspections, then a second round of "more draconian" sanctions would be imposed, the official said.
'Lynching' of Russia
The move prompted angry reactions from Russian diplomats.
The US is "acting like a police state" and treats the Skripal issue in a manner reminiscent of "lynchings," said Konstantin Kosachev, the head of the the foreign affairs committee in Russia's upper house assembly, the Federation Council.
Imposing the sanctions "would mean that the US is once again demonstrating the behavior of a police state, beating the evidence out of the suspect by threats and torture, and, in the bottom line, punishing without crime in the worst traditions of well-remembered lynchings," he told the Interfax news agency.
Separately, Russia's Washington embassy commented it was "accustomed to not hearing any facts or evidence" that Russia was behind the Skripal poisoning.
"The American side refused to answer our follow-up questions, claiming that the information is classified. However, we were told that the US has enough intel to conclude that 'Russia is to blame'," they said in a statement.
The Russian embassy said they were urging an open and transparent investigation and that this position was outlined in their written communiction with the State Department.
"We suggested publishing our correspondence on this issue," they said. "No answer has followed so far."
Russia holds off on countermeasures
Russia President Vladimir Putin's spokesman Dmitry Peskov also slammed the move, saying it was "categorically unacceptable" to link new restrictions to the Skripal poisoning.
At the same time, he said it would be "inappropriate" to discuss Russia's eventual countermeasures "until we officially and specifically understand what this is about."
"Moscow retains hopes of building constructive relations with Washington," he added.
The Kremlin has vehemently denied using a Novichok-type nerve agent against the Skripals in March. Moscow representatives also repeatedly hinted that the affair was aimed at undermining Russia on the global stage.
Months after the attack in Salisbury, two residents in another southern English town with no ties to Russia were poisoned by a Novichok-type poison. One of them died. British investigators believe they accidentally came into contact with the poison.