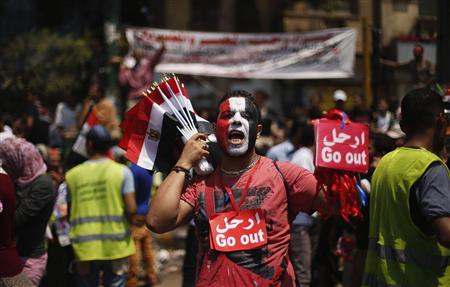 DAR ES SALAAM – The United States put pressure on embattled Egyptian President Mohamed Morsy on Tuesday to listen to concerns of huge anti-government protests, as Egypt's army planned to push the Islamist leader aside if he fails to strike a power-sharing deal with his opponents within 24 hours.
In a phone call at the end of an African tour, President Barack Obama told Morsy that the political crisis can only be resolved by talks with his opponents.
"President Obama encouraged President Morsy to take steps to show that he is responsive to their concerns, and underscored that the current crisis can only be resolved through a political process," the White House said in a statement.
Obama urged Morsy to create an inclusive political process.
"Democracy is about more than elections," the statement said. "It is also about ensuring that the voices of all Egyptians are heard and represented by their government, including the many Egyptians demonstrating throughout the country."
Secretary of State John Kerry also called Egypt's foreign minister Mohamed Kamel Amr, the U.S. State Department said. "He conveyed the same message that the president conveyed to his counterpart, which is that it's important to listen to the Egyptian people," State Department spokeswoman Jen Psaki said.
State news agency MENA reported early on Tuesday that Amr tendered his resignation. It was unclear if he was still in his position when Kerry spoke to him. "I would refer you to the Egyptian government for his exact status," Psaki said when asked about Amr.
She said a media report that Washington had urged Morsy to hold early elections to end the crisis was inaccurate.
The United States played a vital role in Egypt's transition to democracy when it withdrew support for strongman President Hosni Mubarak in 2011 in the face of mass protests in Egypt.
It has so far stayed away from the crisis enveloping Morsy's government, but the calls by Obama and Kerry were a clear sign that Washington wants to push Morsy toward dialogue with the opposition.
Egypt's army has plans to push Morsy aside and suspend the constitution if he fails to strike a power-sharing deal with his opponents within one day, military sources told Reuters in Egypt on Tuesday.
The United States is a big aid donor to Egypt and its military. Obama "told President Mursi that the United States is committed to the democratic process in Egypt and does not support any single party or group," the White House said.
Morsy, Egypt's first freely elected leader, was still clinging to power with tens of thousands of people on the streets from rival factions. There were some clashes between Mursi's Islamist supporters and those who want him forced out after only a year in office.