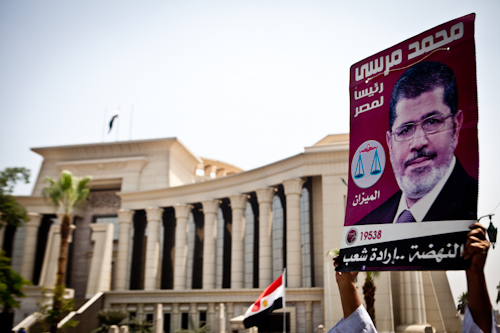 The US did not back a specific candidate in the last Egyptian presidential election, which ended in mid-June, the US State Department said Sunday.
A department statement quoted a senior US official as saying that Egyptians alone can select their leaders, and stressing that the US only supports a complete transition to a democratic, civil system of government. The official quoted accompanied Secretary of State Hillary Clinton on her first visit to Egypt since President Mohamed Morsy's election.
"We have not supported any candidate, any party, and we will not, but what we do support is a full transition to democratic civilian governance here, including equal rights under the law for all groups," the statement said.
The official said Clinton was very anxious to listen to the Christian community express their concerns and the kind of protection they need to safeguard their rights during the transitional process.
"She had a meeting with about 10 Egyptian Christians representing the full spectrum of Copts and Catholics and others. I think we've put out a list of who was there. And she's now having a meeting with women leaders, entrepreneurs, politicians, NGO leaders, etc.," the official said.
In Alexandria, Clinton received a hostile welcome on Sunday, with protesters throwing tomatoes and shoes at her motorcade. Reuters reported that a tomato struck an Egyptian official in the face, and shoes and a water bottle landed near the armored cars carrying Clinton's delegation in the port city of Alexandria.
A senior State Department official said that neither Clinton nor her vehicle — which were around the corner from the incident — were struck by any of the projectiles.
Protesters chanted: "Monica, Monica," a reference to the extramarital affair of her husband, former President Bill Clinton. Some chanted: "Leave, Clinton," Egyptian security officials said.
It was not clear who the protesters were or what political affiliations they had. Protesters outside Clinton's hotel on Saturday night chanted anti-Islamist slogans, accusing the US of backing the Muslim Brotherhood's rise to power.