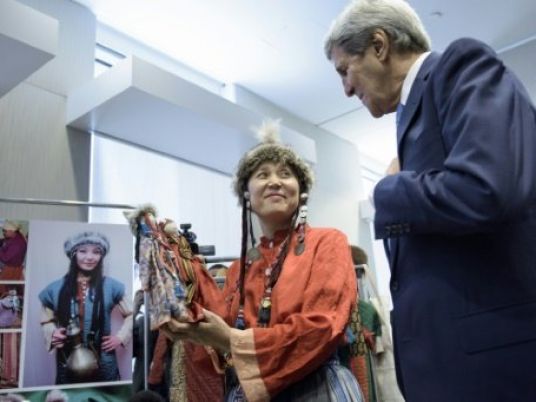 Uzbekistan's president Islam Karimov, who has built his authoritarian rule on warnings of a militant Islamist threat to the Central Asian region, suffered a brain hemorrhage on Saturday and is in stable condition in intensive care, his daughter said.
The absence of a strong political opposition or free media means any eventual transition of power is likely to be decided within a close circle of Karimov's family and top officials.
"At the moment, it is too early to make any forecasts about his condition in the future," his daughter Lola Karimova-Tillyaeva wrote on her Instagram page on Monday. "I will be grateful to everyone who will support my father with prayers.
Karimov, 78, presents himself as a bulwark of stability in a country situated on the northern borders of Afghanistan, controlling vast reserves of gold, oil, gas and cotton, and criss-crossed, like the broader region, by ethnic fault lines.
Interethnic tension and cultural differences — exacerbated by the often arbitrary drawing of boundaries in Soviet times — are rife in the mainly Muslim region where Western powers, Russia and China compete for influence.
The government of Central Asia's most populous country, ruled by Karimov since it gained independence with the 1991 collapse of the Soviet Union, said on Sunday he was undergoing hospital treatment, but gave no details.
Succession
According to the constitution, Nigmatilla Yuldoshev, the chairman of the upper house of parliament, is supposed to take over if Karimov dies or is unfit to continue working as president, and elections must take place within three months.
In reality, a successor might be picked much more quickly by the elite, as was the case in Turkmenistan, another Central Asian nation, whose authoritarian leader Saparmurat Niyazov died in 2006. In keeping with the Soviet tradition, his successor, Kurbanguly Berdymukhamedov, headed the funeral commission.
"Karimov and his inner circle have managed to build such a system of state power in Uzbekistan which will remain functioning irrespective of the life or death of the first person," Russian political analyst Alexander Knyazev said.
"It is hard to say right now, which of the few scenarios is the most realistic one, but one thing is certain: there is no talk about his daughters, of course, and this won't be one person. This will be an attempt of collective rule."
Karimov has no sons, who might have been regarded as heirs apparent in the patriarchal culture. His elder daughter, Gulnara, has not appeared in public since several media reported in 2014 that she had been placed under house arrest.
Karimov's second daughter, Lola, is Uzbekistan's ambassador to Paris-based UNESCO.
One potential contender is Shavkat Mirziyoyev, Prime Minister since 2003. Rustam Azimov, who leads the government's financial block, is another option, as well as Rustam Inoyatov, who runs the powerful SNB security service.
The backing of security forces may ultimately decide who takes over from Karimov, although open confrontation could destabilize the nation and encourage other groups, such as Islamists, to interfere.
Islamist threat
The latter have been trying to get a foothold in the Muslim nation of 32 million since the 1990s, when they established the Islamic Movement of Uzbekistan (IMU). The group has fought alongside the Taliban and then pledged allegiance to Islamic State which is estimated to have hundreds of Uzbek fighters.
As recently as in 2014, the IMU claimed responsibility for a raid on the Karachi airport in Pakistan in which dozens of people were killed.
Karimov has been criticized by rights groups and some governments over his human rights record, but argues the country is at risk of becoming a conduit for Islamist militants from Afghanistan to Russia and western Europe.
The Uzbek government has accused Islamists of being behind protests in the city of Andizhan where police and security forces fired into a crowd in 2005, killing 187 people, according to official reports.
Despite the fallout from Andizhan, Karimov has with some success courted both the West and Russia as well as China, maintaining political and economic links with all.
Karimov has been slow to implement market reforms and Uzbekistan's economy is still dominated by the state. The country has struggled to keep up, in terms of average incomes, with its neighbors such as oil exporter Kazakhstan and at least 2 million Uzbeks are estimated to be working abroad, mostly in Russia, to provide for their families.