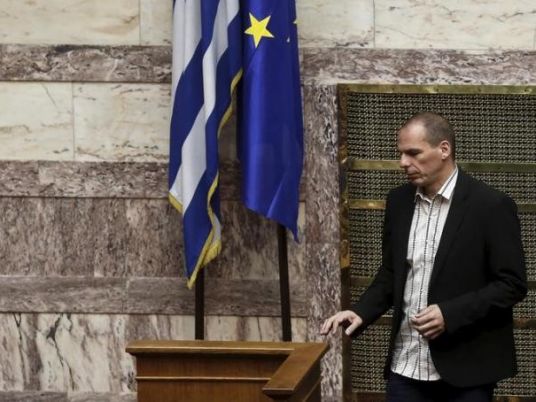 Greece Finance Minister Yanis Varoufakis said he could rule out a 'Grexit' because it would not be a sensible solution to the Greek debt crisis and in a German newspaper interview on Monday also said a debt restructuring was the only way forward.
"I rule out a 'Grexit' as a sensible solution," Varoufakis told mass circulation Bild newspaper, referring to a possible Greek exit from the eurozone. "But no one can rule out everything. I can't even rule out a comet hitting earth."
Talks on ending the deadlock between Greece and its international creditors broke up in failure, with European leaders venting frustration as Athens stumbled towards a debt default that threatens its future in the euro.
Varoufakis said he believed it could be possible for Greece to reach an agreement with creditors quickly. He said the only way Greece would be able to repay its debts was if there was a restructuring and a deal could be possible if Chancellor Angela Merkel took part in the talks.
"We don't want any more money," he told the German daily that has been especially critical of the rescue efforts, adding Germany and the rest of the eurozone had already given Greece "far too much" money. "An agreement could be reached in one night. But the chancellor would have to take part."
He said the austerity program had failed.
"There's no way around it: We have to start all over again. We have to make a clean sweep," Varoufakis said.
He added that his government wanted to prevent a 'Grexit' but needed "a restructuring. That's the only way possible that we can guarantee and also afford to repay so much debt."
He added he would say 'yes' immediately to any such agreement with a debt restructuring and Greece would forego any further aid if the European Central Bank, the IMF and the European Union would offer a debt haircut.
On top of that Greece needs an "extension" of the terms.
EU officials blamed the collapse of the talks on Athens, saying it had failed to offer anything new to secure the funding it needs to repay 1.6 billion euros to the IMF by the end of June.
Greece said it was still ready to talk, but that EU and IMF officials said they were not authorized to talk further. Athens said it would not give in to demands for pension and wage cuts.
"We don't want a single cent for wages, pensions or debt repayment," Varoufakis told Bild. He said that the Greek government would have trouble collecting taxes if creditors forced it to raise them too high.
Athens has proposed VAT rates of 7, 14 and 22 percent in an effort to redistribute the tax impact and lighten the burden on lower income groups. But lenders want rates of 11 and 23 percent and are pressing for an increase in VAT on energy to 23 percent.
"You know what our problem is with the VAT?" he said. "We're not able to collect it." He said if Greece is forced to raise VAT to 23 percent "then there will be less tax revenues.
"It sounds crazy but that's the way it is: the higher the tax rate, the less (willing) people (are) to pay, they then feel entitled not to pay more."