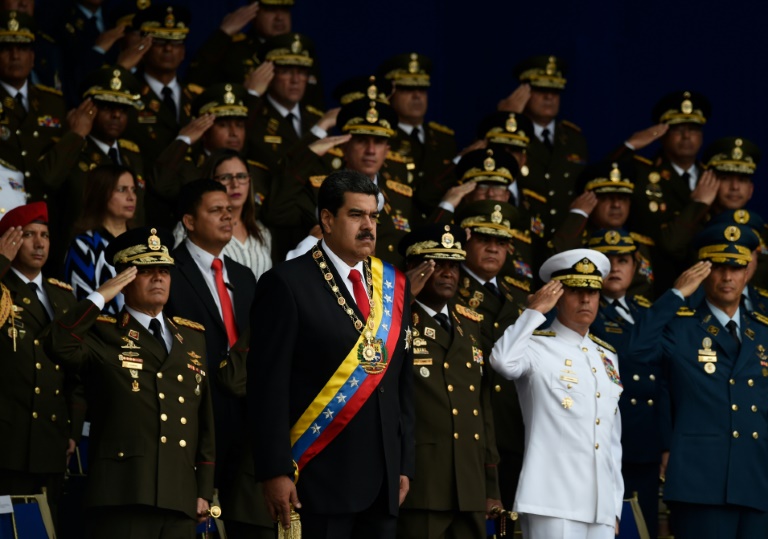 Six "terrorists and hired killers" have been arrested in Venezuela accused of trying to assassinate President Nicolas Maduro in an alleged drone attack, the government said on Sunday.
Interior and Justice Minister Nestor Reverol announced the arrests on state television, saying more could be on the way "in the coming hours."
Three soldiers were in critical condition and four more were injured in the alleged attack that involved two remote-controlled drones, Reverol said.
He described it as "a crime of terrorism and assassination" and said that the "material and intellectual authors inside and outside the country" had been identified.
Venezuela's opposition braced itself for "persecution and repression" as the armed forces vowed "unconditional" loyalty to radical socialist leader Maduro who, standing with his wife on a reviewing stand, was unharmed in the incident.
Maduro vowed to inflict "maximum punishment" on those who tried "to assassinate me." He pointed the finger at outgoing Colombian President Juan Manuel Santos and "the ultra-right wing" — a term he uses to describe domestic opposition — even as a mysterious rebel group claimed responsibility.
'Wave of repression'
"There will be no forgiveness," Maduro warned, for what a military statement said was an act of "barbarism in a desperate attempt to destabilize" the government.
But Nicmer Evans, a former government loyalist and now leader of the opposition Frente Amplio party, said he feared the government's measures "open the door to persecution and a wave of repression."
Those worries came as Defense Minister Vladimir Padrino Lopez voiced the military's "unconditional and unrestricted loyalty to our commander in chief."
Meanwhile, the Patriotic Pole coalition of parties allied with the government called for a march on Monday in Caracas to back Maduro.
Army general Padrino Lopez described Saturday's incident as "an aggression against the military" aimed at provoking regime change "through unconstitutional means."
Attorney General Tarek William Saab said the names of those arrested would be published on Monday.
The alleged attack involved two drones, each carrying a kilogram (2.2 pounds) of the plastic explosive C4, which Reverol said on state television is "capable of causing effective damage over a 50-meter (164-foot) radius."
He said one drone flew over the tribune where Maduro was giving a speech but that it became "disoriented by signal-inhibiting equipment" and was thus "activated outside the assassins' planned perimeter."
The second drone lost control and crashed into a nearby building, Reverol added.
State television images showed Maduro looking up with a start after hearing a bang, as National Guardsmen lined up in the parade scattered in fright.
No drones could be seen in the television broadcast, which showed bodyguards jumping in front of Maduro to protect him with flexible ballistic shields. The broadcast was quickly cut.
Maduro 'has to fall'
Once back in the presidential palace, Maduro said he had "no doubt" that Colombia's Santos was "behind the attack."
Santos, who is due to hand over power to the hardline right-winger and vocal Maduro critic Ivan Duque on Tuesday, had said this week that the Venezuelan "regime has to fall" and that he could "see it happening in the near future."
Colombia's Foreign Ministry denied involvement, calling the allegations "absurd."
Maduro also said investigations pointed to financial backers who "live in the United States, in the state of Florida. I hope that President Donald Trump is ready to fight these terrorist groups."
But US national security advisor John Bolton insisted Sunday that there was "no US government involvement" and even suggested on "Fox News Sunday" that the incident could have been "a pretext set up by the regime itself."
Late Saturday, a rebel group calling itself the National Movement of Soldiers in T-Shirts claimed responsibility in a statement passed to US-based opposition journalist Patricia Poleo, who read it on her YouTube channel.
"We cannot tolerate that the population is suffering from hunger, that the sick do not have medicine, that the currency has no value, or that the education system neither educates nor teaches, only indoctrinating communism," said the statement, accusing the regime of having "made public office an obscene way to get rich."
A collapsing economy
On Saturday, a policeman who requested anonymity told AFP that drones may have been released from a nearby apartment that suffered a fire after one exploded. However, other accounts blamed the fire on the accidental explosion of a gas cylinder.
Maduro's allies Cuba, Bolivia, Syria and Iran condemned the incident, as did Russia. Spain rejected "any type of violence for political ends."
Last year, 125 people were killed over four months of violent clashes between anti-Maduro protesters and armed forces.
Maduro, a 55-year-old former bus driver, has remained in power despite a collapsing economy and a long-running political crisis, thanks in large part to unwavering support from the military.
Hundreds of thousands have fled the country due to food and medicine shortages and hyperinflation that the International Monetary Fund says could reach one million percent this year.
Maduro often accuses the opposition and the United States of working together to topple him.