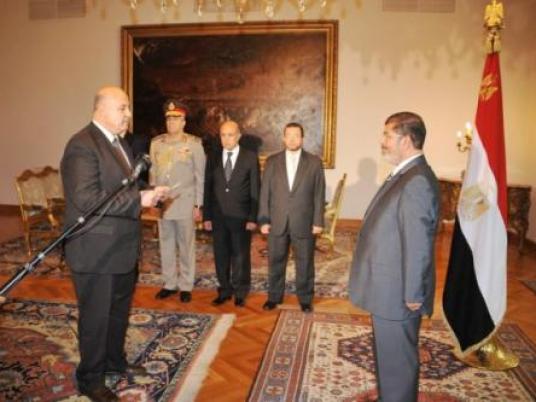 Vice President Mahmoud Mekky announced his resignation in a press statement on Saturday.
In his statement, Mekky said, "I would like to point out to the Egyptian public opinion that since I assumed the position of vice president I have made my utmost effort to achieve the national interest in every area, and [did so] while meeting with political and revolutionary figures."
"I realized a while ago that the political nature of the work does not fit my career as a judge," he added.
Mekky's resignation is effective Saturday. Egypt's new draft constitution, which is currently being voted on in a popular referendum, does not mention the post of vice president.
Mekky had previously stated his intention "to soon resign" his post, while some recent news reports said he had twice submitted his resignation recently, only to have President Mohamed Morsy reject it.
Egyptian President Mohamed Morsy appointed Mahmoud Mekky as his deputy on 12 August. Mekky, the former Vice President of the Court of Cassation, is a leader member of the independent judges movement and was known for his opposition to the regime of ousted President Hosni Mubarak, contributing to the detection of many cases of election fraud during his regime.