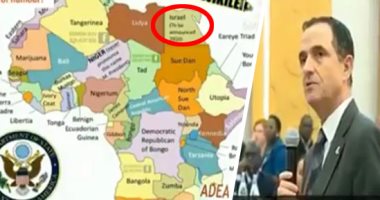 Massive controversy and outrage dominated Egypt's social media outlets in the wake of the circulation of video footage of a conference held in Tunis where a map, predicted for 2020, showed Israel in the place of Egypt.
The conference was part of the African Summit for Youth Skills and as attended by representatives of various African countries. The map was presented by a South African participant.
The video footage showed the South African participant giving a lecture on the future of needed skills for the labor market in Africa. During the lecture, he showed a map of the African continent and instead of where Egypt should be written, it said in its place "Israel will be declared in 2020."
The video features the Egyptian deputy Minister of Education Ahmed Al-Guwashi as shocked when he observed the map and him directly asking the officials present at the conference to remove it or that Egypt would withdraw from the conference.
However, the organizers of the conference disregarded the Egyptian official's requests to remove the map. Al-Guwashi decided to repeat his request and addressed it directly to the Minister of Education of Tunisia who was managing the conference.
The Tunisian Minister of Education responded positively to the request and ordered the organizers of the conference to remove the map rapidly, video showed.
Al-Guwashi noted in media statements that that his ministry will continue to press the African Union to investigate the incident.
Moreover, he added that he also tried to communicate with the Egyptian ambassador to Tunisia to inform him of the matter, stressing that the member who presented the wrong map did not apologize, but the African Union will present the repercussions of the incident after the end of the meetings.