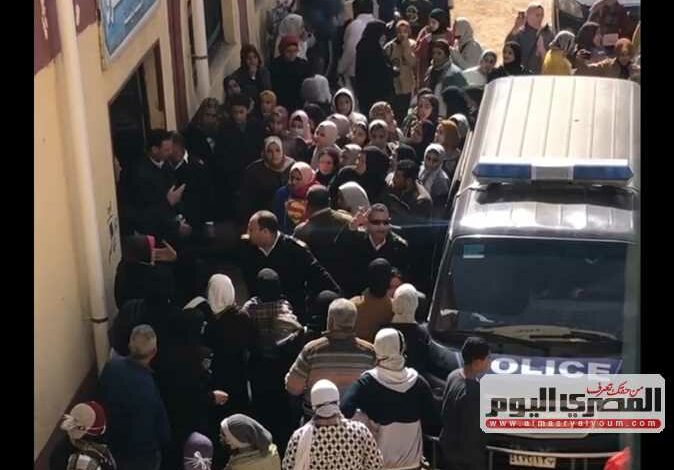 The Public Prosecution office in al-Senbellawein Center in Daqahlia Governorate detained on Friday six parents involved in the incident of detaining and assaulting a female teacher in Daqahlia who prevented students from cheating in the mid-year exams for the middle school certificate.
On Thursday, a group of parents in a school in Senbellawein confronted the head of an examination committee for preparatory certificate Wedad Hamdi on the last day of exams.
Police were forced to intervene to get her out of the school and prevent the parents from beating her.
The Public Prosecution requested further investigation into the incident and its circumstances.
The Daqahlia Security Directorate had received a notification that several adults had gathered in front of the Martyr Mohamed al-Shuqairi School, and had attempted to storm it and assault the chairperson of the examination committee.
A security force from the criminal investigations officers of Senbellawein Police Department moved to the scene, where they found Hamdi locked in school with angry parents threatening to assault her.
Wedad Hamdi said, "I was eager to implement the instructions of Education Ministry to prevent cheating and achieve discipline in the committee."
"I withdrew the mobiles from the students, and despite being exposed to many threats from the students and parents, I did not give up my principles to achieve equal opportunities for all students within the committee."
A video of the incident was spread across social media, showing the mob of angry parents swarming the outside of the school.
An official source at the Directorate of Education in Daqahlia confirmed that all legal means are being taken towards the incident to protect teachers overseeing exams and to take legal action against those involved.
The source added that the teacher fulfilled her job duty towards obligating all observers within the committee since the beginning of the exam to withdraw mobile phones from students and to implement instructions from the ministry to prevent cheating.