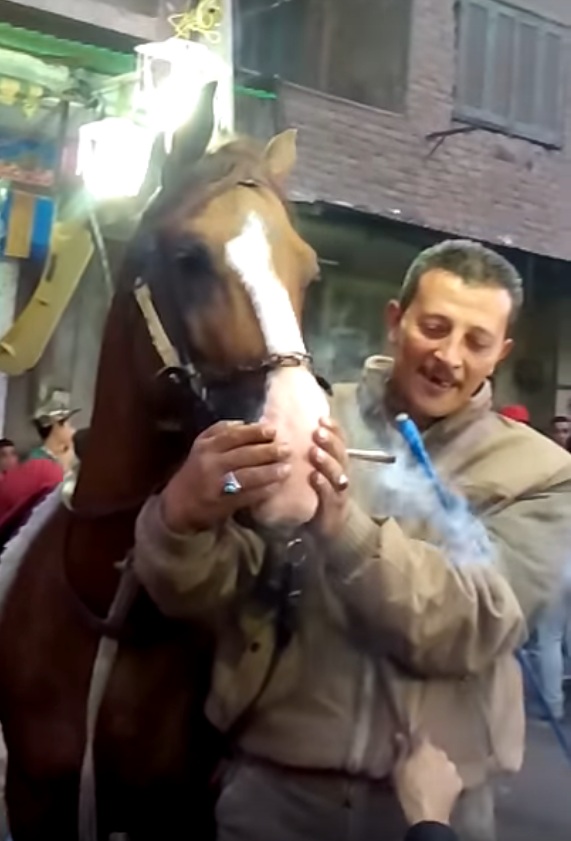 A video of a horse being forced to smoke a joint filled with hashish at a traditional wedding caused outrage on Egyptian social media platforms and the country's parliament.
In the video, which is just over two-minutes long, a man appears to be forcing the horse to smoke the joint through its nose, with one nostril and its mouth being blocked. The man holds the joint in the horses mouth for about two minutes.
The man then attempts to get the horse to dance. The horse starts dancing with its two front hooves on a chair.
The video has stirred controversy and outrage among Egyptians on social media outlets. Some have demanded that the man in the video be put on trial.
The head of the Youth and Sport Committee Mohamed Amer asked the speaker of the parliament Ali Abdel Aal in a statement to conduct an urgent investigation into the incident and that Minister of Interior Magdy Abdel Gaffar become involved.
He added that the Ministry of Interior should combat all drug crimes and ban their presence at weddings, which often occur in the street.
The former of head of Veterinary Services Hamed Sa'ada said in media statements that forcing a horse to smoke a hashish joint is considered a non-human and aggressive act as the animal will feel the same negative effects that a human would after smoking.
"If the cannabis dose was increased, the horse would pass away," he asserted.