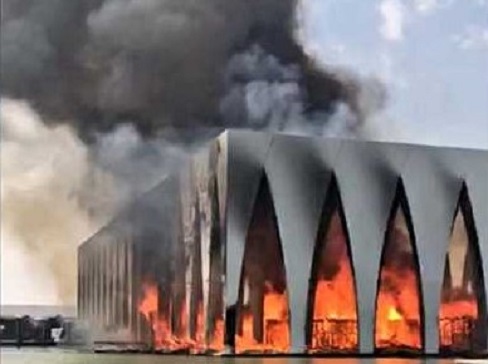 A massive fire erupted on Wednesday at the main hall of the el-Gouna Conference and Culture Center, where the fifth edition of el-Gouna Film Festival is expected to be launched.
Fire trucks and ambulances arrived at the scene, as thick smoke covered the sky.
A press conference for the fifth session of the festival was scheduled to be held on Wednesday afternoon to announce the details of the opening scheduled for Thursday evening, and the festival administration is trying to control the situation.
The administration of the el-Gouna Film Festival announced in a statement that the fire has been brought under control, confirming that there are no casualties.
The festival administration added, "The place where the press conference will be held has nothing to do with the location of the fire."
The opening ceremony of the festival is expected at the scene on Thursday evening, the winners will be announced and awarded on October 22nd.