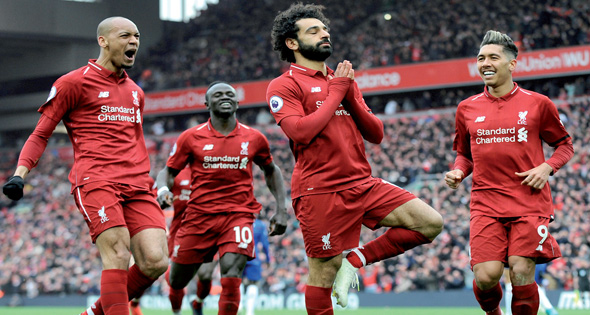 Mohamed Salah adopted a yoga pose while celebrating his tremendous goal in Sunday's match, which saw Liverpool defeat  Chelsea with a 2-0 score.
Explaining as to why he chose the pose Salah simply said that he was a yoga man, Sky Sports reported.
"I do yoga and it just came into my mind," he clarified, adding that he practices yoga on a regular basis.
Speaking about how he scored his goal Salah told Liverpool Echo, "I do not think, I just feel."
"Normally I shoot with the inside of my foot. But this one I decided, because it was far, to hit it with power," he said, adding that he considers himself lucky the ball significantly hit the net that way.
This latest win sent the reds back on the Premier League table. Liverpool now is likely to win the title for the first time in 29 years, thanks to Salah's long-range strike. 
Liverpool's Klopp hailed Salah's strike against Chelsea, saying it blew him away.

Salah expressed happiness over the result, stating that he is the top scorer of the Premier League alongside Aguero.
"First in the Premier League, that's the most important thing," the Liverpool Echo reported him saying, adding that he ignores everything else and insists that the English Premier League is the most important thing.
Salah believes that Liverpool's Firminio and Mane are having a good season, believing that this attention is an indication that they have freedom. 
"I'm very happy for them. It also helps our team to score goals when they focus on my side the other side is free. I just focus on the team," he added to Liverpool Echo.
While retired professional footballer Jamie Redknapp said this goal is Salah's best goal for Liverpool, Salah himself believes that his strikes in the last season against Everton and Spurs at Anfield are still the most sensational for him.