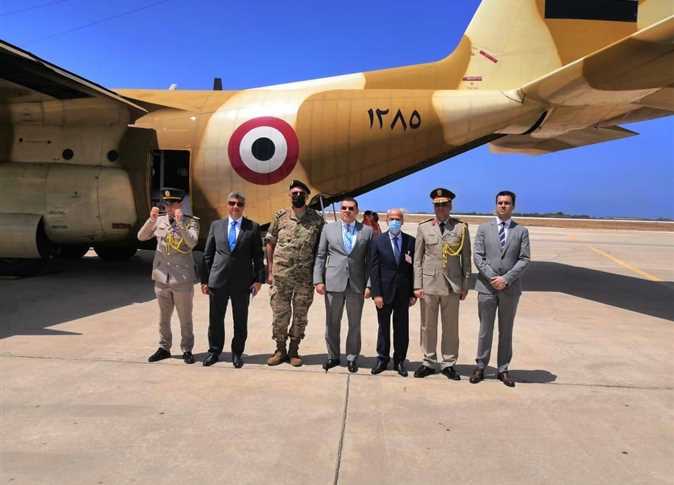 Egypt's ambassador to Lebanon Yasser Elwi announced Saturday that the second batch of Egyptian aid to Lebanon, composed of 14 tons, arrived at Beirut airport and was received by the head of the High Relief Commission and the representative of the Lebanese Army Commander.
https://www.facebook.com/EgyArmySpox/videos/977450529361010/
Last week, Egypt launched a relief program to support Lebanon's recovery from a catastrophic explosion at the Beirut port.
The aid extends over four phases, covering all aspects of relief required.
Egypt's aid includes medicines, medical supplies, specialized medical teams, foodstuffs  and materials for the reconstruction effort, Elwi said.
He explained that "Egypt's aid is unique as it includes all the relief aspects. The Egyptian government not only chose one side of relief, but also covered all areas of aid needed by Lebanon and its people, within the framework of an integrated relief program in all aspects."
Egypt's first plane arrived on Thursday, the ambassador said, marking the beginning of the first phase.
"These materials came in accordance with the actual needs that were requested by them, and the Lebanese side prepared a list to help Lebanese hospitals and medical centers provide medical services to the sick and those injured in the explosion," he said.
The second phase will include up to 20 tons of food, to compensate for the strategic reserve Lebanon lost when the main storage silos inside the Beirut port collapsed from the explosion.
Egypt's third phase will provide medical teams to support Lebanon's hospitals, Elwi said, adding that Lebanon has prepared a list of all the required medical specialties which Egypt's government will  provide.
The fourth phase will feature contributions in reconstruction efforts to help Beirut recover.
Edited translation from Al-Masry Al-Youm