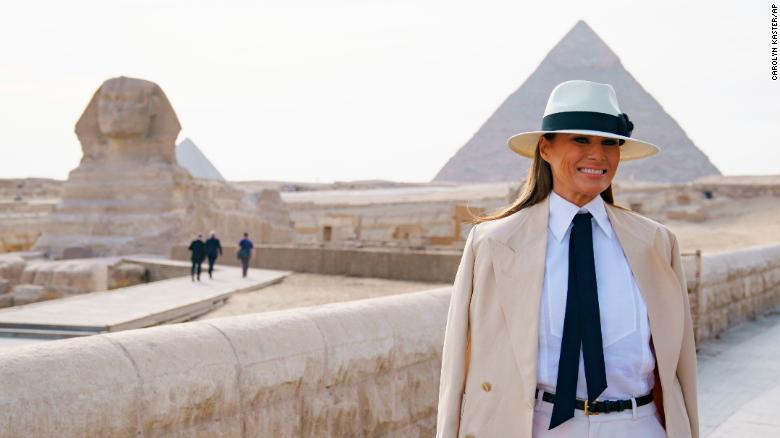 As part of her past week's tour of Africa, US First Lady Melania Trump has released a short video documenting her trip to Egypt, posted to her Facebook on Tuesday.
Melania arrived in Egypt on Wednesday 2 October, where she visited the Pyramids, the Sphinx and met with Egypt's first lady Intissar Al-Sisi, as well as Minister of Tourism Rania Al-Mashat.
The video shows the first lady in a predominantly white outfit – in what many commented as a more carefree attitude than when around her husband – touring the Sphinx and the Pyramids, inside and out. She is also seen shaking hands with several officials including Minister of Tourism Rania Al-Mashat, Minister of Antiquities Khaled Al Anani, and Secretary-General of the Supreme Council of Antiquities Mostafa Waziri.
The video then moves to "Al-Itahadyia" presidential palace, where Melania is seen sitting with Sisi as well as the Egyptian first lady. The camera then cuts to the two women chitchatting on their way out of the palace, before shaking hands.
The first lady's week-long journey to Africa included visiting Ghana, Malawi, Kenya and Egypt, during which she has given very little to the media, holding only one private press conference which was attended by the seven reporters who accompanied her through the trip.
Melania did discuss some of her thoughts with her media entourage, according to CNN. This included the controversy of Brett Kavanaugh, who Trump appointed to the US Supreme Court despite sexual conduct allegations.
"If we're talking about the Supreme Court and Judge Kavanaugh, I think he's highly qualified for the Supreme Court," she said. But she added, "I'm glad that Dr. Ford was heard. I'm glad that judge Kavanaugh was heard. The FBI investigation was done, is completed and Senate voted."
She also addressed her husband's Twitter habits, claiming she did not always agree with what he tweeted, and made herself heard to him when she did not.
"I give him my honest opinion and honest advice, and sometimes he listens and sometimes he doesn't, but I have my own voice and my opinions."
Several notable celebrities have visited the pyramids over the past few years including two-time-Oscar-winner Hillary Swank, Oscar winner Nicolas Cage, and singer Usher.