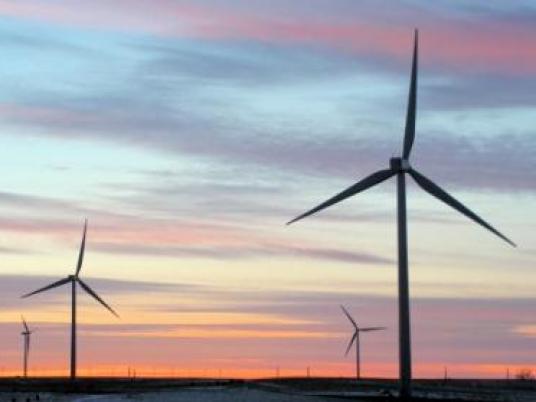 In the words of Faisal Eissa, the managing director of Elsewedy for Wind Energy Generation, Global Wind Day is "a perfect opportunity for hundreds of organizations around the world to share hands-on knowledge about wind energy between experts and a curious public," in an attempt to realize the power of wind energy and its potential to transform the world.
Eissa's company was the recipient of the 2011 World Wind Energy Award for the it's leading role in introducing wind power on a large scale in the Middle East and North Africa.
In celebration of the event, held annually on 15 June, Elsewedy, the Egyptian Wind Energy Association and other groups organized an excursion to the Gulf of Suez to visit Egypt's largest wind farm in Zaafarana and Elsewedy Towers, the first wind turbine tower construction site in the Middle East and North Africa.
Dozens of engineering students and several experts, university professors and businessmen gathered for the day's excursions. En route to the sites, plentiful dialogue concerning renewable energy in the region went uninterrupted.
"It's wonderful to know that right now thousands of others around the world are also celebrating wind energy at the same time, in their own way," Eissa said.
The first stop at Elsewedy Towers, located near the Ain Sokhna tollgate, granted attendees access to the factory producing the turbine towers. Professors and students were able to witness towers being built in various phases.
Mohamed el-Sokky, the chief engineer on site, gave a tour of the process in which metal is cut into massive rectangular sheets, bent into circular shapes of various sizes, welded together, and then grinded, deoxidized and painted.
According to Eissa, Elsewedy Towers, established in 2010, was strategically located near Ain Sokhna to allow easy transportation to the Zaafarana farm a few kilometers south, and to the Suez canal for global exportation to the MENA region, Europe and the United States.
Building wind turbines is a three-step process involving the construction and assemblage of towers, engines and blades. Towers are made at Elsewedy's facility, engines are imported from an Elsewedy factory in Spain, and blades are bought on the global market.
Ideally, an integrated wind turbine construction site has all three stages in close proximity to one another. The 2011 award was instead awarded to Elsewedy for the leap of developing the first site in the Middle East and North Africa. Eissa added that additional sites are to be built as the local markets pick up.
The second stop for Global Wind Day was at Zaafarana wind farm, a few kilometers south of ElSewedy Towers and 190 km southeast of Cairo.
Zaafarana wind farm is by far the largest in Egypt, and one of the ten largest wind farms in the world.
Having been built in various stages since 2000, the 120 square kilometer site is now home to 700 wind turbines that produce a total capacity of 550 megawatts (MW). Though this is less than 3 percent of Egypt's total capacity of just under 25 gigawatts (GW) or 25,000 MW, it is a significant development for the region.
Zaafarana saves Egypt 332,000 tons of fuel a year, and reduces annual carbon emissions by approximately 834,000 tons, according to a presentation by the New and Renewable Energy Authority during the visit.
Though the initial vision was to produce 7,200 MW of renewable energy by 2020, it is expected that without significant economic and political change, development will increase at the current rate of about 150MW every two years.
The authority's presentation also stressed the significant value of the Gulf of Suez's wind energy potential, both nationally and globally.
A wind map of the region showed steady, northern wind speeds of approximately 8-9 meters per second (28.8-32.4km/h), translating to investment returns potentially 2.5 times higher than that of wind farms in Europe.
These facts have lead to considerable interest from renewable energy investors in Europe. In fact, almost all of the funding for the Zaafarana wind farms was provided from abroad through bilateral agreements.
Galal Osman, president of the Egyptian Wind Energy Association, said it is important to look at otherwise unappealing sites differently. "It's important to start seeing these hot windy locations in terms of their energy value in the modern world, in the same way one would if they discovered oil," he said.
The students learned about the technical details of the mechanical engineering aspects of the turbines, and visited the control room where turbines are individually monitored by computer.
Beyond education, another major purpose of the Global Wind Day excursion is to grant Egyptian engineering students access to experts and renewable energy businesses.
Mohamed Zakareya, an engineering student at Cairo University interested in specializing in renewable energy, said that the "experience of visiting these locations and meeting wind energy experts is a dream come true, as access to this type of knowledge is difficult in Egypt."
To end the day, attendees toured the Zaafarana wind farm, which was to no surprise, inexplicably hot and windy. Standing underneath wind turbines is fascinating, but also slightly frightening.
Despite the region's potential and steadily increasing interest from European investors, experts say that there are two crucial factors holding the region back from realizing its full potential.
Osman said that the first crucial step is to relieve the country of energy subsidies.
"We must start valuing energy properly so that it is respected instead of expected," he said. "Economic policy changes must take place so that subsidies are removed for those who can afford it so the market can pick up and investor returns are maximized."
However, Eissa added that most importantly, Egypt must reach political and economic stability, but that "perhaps realizing the potential of renewable energy nationally and for export could be significant in reaching this stability, too."