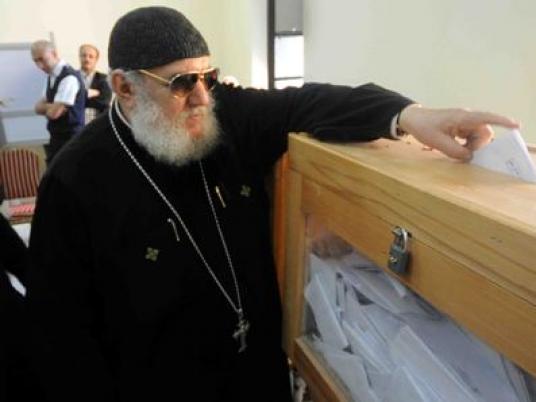 After a busy and shaky first day, elections in Helwan flowed smoothly on the second. Voters in this working-class industrial district queued up outside schools which had been converted into polling stations. Campaigners and election monitors reported fewer voters on the second day, and female voters seemed to outnumber male ones.
On the first day of elections, a number of polling stations in this south-eastern district of Cairo opened their doors to voters an hour or more behind schedule; the polls were due to open at 8 am. Other polling stations closed their doors two hours early – at 7 pm – despite the fact voting has been extended to 9 pm.
The following stations reportedly opened their doors to voters behind schedule on Monday: Ahmed Orabi, Altas, Abdel Moneim Riyad, Omar Ben Aziz, Al-Ibrahimiya, Al-Amira Fawziya, and the School for the Hearing and Speech Impaired. The delay was attributed to the absence of ballots and/or indelible ink.
As is the case with nearly every other polling station, the Muslim Brotherhood's Freedom and Justice Party (FJP) set up booths and tables in close proximity. Young members of the Brotherhood sat at their laptops, inputting national ID numbers online and directing voters to their respective polling stations. The youth wrote down the numbers of the polling committees and voter codes on FJP campaign cards.
Outside the School for the Hearing and Speech Impaired, an FJP member said that his polling station opened half-an-hour late on Tuesday and opened more than an hour late the day before. He attributed the delay to the Ministry of Interior's failure to provide polling stations with ballots on time.
Nevertheless, the FJP member praised running of the election. "Voting has taken place peacefully here," he said. "There have been no fights or scuffles outside this polling station. This is the case with the vast majority of other polling stations in Helwan."
An elderly male voter outside the school complained, however. "I tried to cast my vote yesterday shortly after 7 pm, but the doors were locked," he said.
"The voting is supposed to continue until 9 pm."
Prominent candidates in Helwan include the outspoken journalist Mustafa Bakry, the human rights lawyer Nasser Amin, and a host of FJP candidates. A number of new faces, including youth candidates, have also emerged. Prominent youth candidates include Ziad al-Eleimy of the Egyptian Bloc and Khaled al-Sayyed from the "Revolution Continues" bloc.