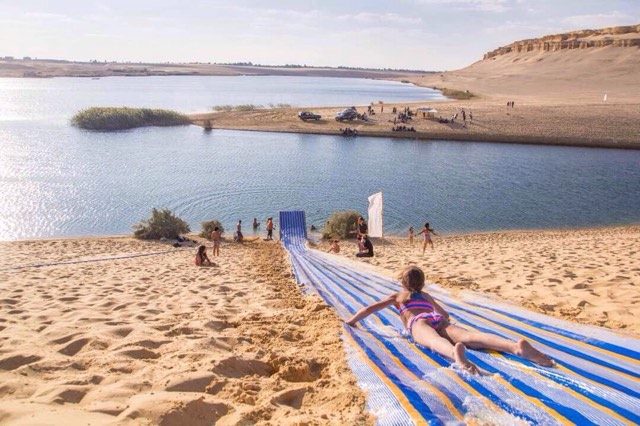 As the government launches strategies and promotional campaigns to boost Egypt's ailing tourism industry, Hany Amr has thought up an innovative new way to experience the classic desert safari by creating a water slide overlooking Lake Moeris in the Fayoum Oasis.
The idea came to Hany while he was organizing the usual safari adventures to the oasis. He realized that beyond the many tourist destinations there, people desire more unusual experiences to make the safari more memorable.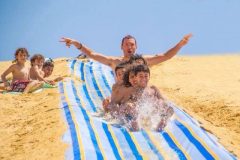 "Since 1997, I have managed a company that specializes in desert safari adventures for tourists and locals. In the past, we traveled in the Sinai and Western deserts, but due to security concerns we now go to Fayoum," Hany told Egypt Independent on Wednesday.
Hany said the water slide allows the desert adventure to expand beyond simply wandering through the dunes, by combining the lakes of Fayoum with the sandy shores.
Lake Moeris is an ancient lake in northwestern part of the oasis, 80 km southwest of Cairo. It used to be a freshwater lake long ago, and is now a smaller saltwater lake called Birket Qarun.
"The idea is so simple; we have a great lake – Lake Moeris – but people used to just look at it, without enjoying the water itself. So I thought about making a water slide covered in wax to allow plenty of slip," he explained.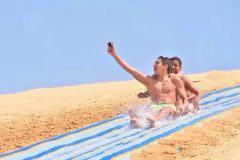 Anyone who enjoys desert safaris, will love experiencing Fayoum's water and desert together. Once the company reaches the lake, they set up the water slide for the visitors, Hany said.
Feedback has been positive so far, Hany said, with many people expressing their admiration and appreciation after having a go on the slide. Even the state officials who work in the area have shown support for the concept.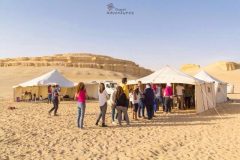 "One should do his job in a way that will entertain and amuse people; this is my goal. The water slide on the edge of Lake Moeris aims not only to combine water and desert together for our clients, but to also promote tourism in Egypt," Hany stressed.
Hany is looking to cooperate with the state so that the slide could be set up on a permanent basis. This step, he says, will effectively boost the number of tourists and locals coming to Fayoum for a break from the city.
"Government support is important; at the very least, they could authorize us to set up the slide permanently. This would be greatly appreciated," he said.