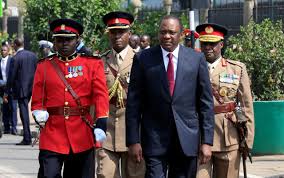 A chastened Angela Merkel warned her conservatives they must compromise to forge a nationally untested alliance in Germany as she heads into talks with other parties on Wednesday after suffering losses in last month's election.
Merkel's conservatives, comprising her own Christian Democrats (CDU) and Bavarian Christian Social Union (CSU), are striving for a tie-up with the pro-business Free Democrats (FDP) and the Greens.
But policy differences are wide and in the last few weeks politicians from all parties have set out their stall, narrowing room for compromise in policy areas from immigration to the EU and environmental policy.
A senior CSU figure even said the conservatives may yet have to talk to their former coalition partners the Social Democrats several months down the line.
Bild daily quoted Merkel, whose conservatives bled support to the far right in the Sept. 24 vote, as telling her parliamentary party on Tuesday evening: "We won't come out of this without compromises" even if they have clear goals.
Merkel, chancellor for 12 years and known as a skilled negotiator, angered many voters over her open-door migrant policy and her conservatives saw their worst result since 1949.
She has said she expects a government to be in place by Christmas, but some senior politicians say January is more likely. That points to policy standstill in Europe's biggest economy for at least three months.
Even then, there is no guarantee of success. The prospect of a minority government or new elections loom over the talks, a scenario Merkel wants to avoid due to fears the far-right Alternative for Germany (AfD) could make bigger gains.
"It is totally conceivable that before Christmas or in January, we say that the whole thing is pointless and we'll talk to the Social Democrats (SPD)," Peter Ramsauer, a senior CSU member but not on the negotiating team, told Deutschlandfunk.
EXPLORATORY TALKS
There seems almost no chance of that as the SPD, licking their wounds after their worst result since 1933, have vowed to go into opposition.
A Jamaica coalition, so called because the parties' black, yellow and green colors match those of the Caribbean nation's flag, is in place in the northern state of Schleswig Holstein but the first regional experiment, in Saarland, failed.
"The road to Jamaica is a long one," CSU politician Alexander Dobrindt said.
Wednesday's "exploratory" talks – first between the conservatives and FDP at noon (1000 GMT) then the conservatives and Greens – will not tackle policy but focus on the format for future talks and on building trust between political foes.
All three blocs will come together for the first time on Friday in a meeting of more than 50 people and further exploratory talks could take weeks.
Combative CSU chief Horst Seehofer met the Greens on Tuesday evening. Katrin Goering-Eckardt, co-leader of the Greens parliamentary group, told German television they had "talked politely" for about an hour while eating Bavarian pretzels.
Seehofer said that in his experience red lines were often "withdrawn once things firm up".
Merkel, weakened further by losses in a state election on Sunday, has already had to give way to the CSU on immigration, effectively bowing to a demand to limit the number of people allowed into Germany. That may be unacceptable to the Greens.
Merkel has spoken of a coalition that focuses on providing a sustainable social security system and has also stressed the importance of investing in digital technology.
A budget surplus gives some leeway to the parties as it could accommodate the potentially competing demands for tax cuts and investment.