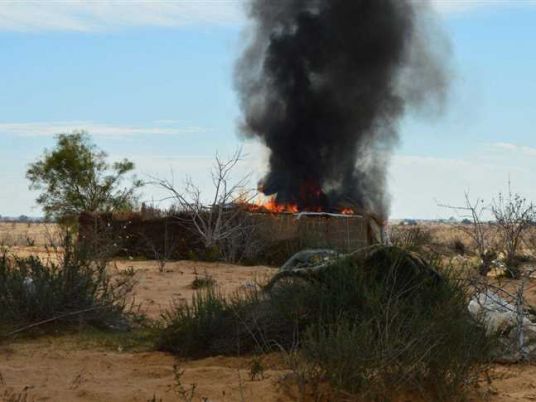 Over the past few days, Egypt's security forces destroyed hideouts and weapons storages used by terrorists in the Sinai, a statement by the armed forces Spokesperson Tamer al-Refaei said on Tuesday.
"As part of the intensive efforts of the Armed Forces to defeat terrorism in North and central Sinai, the law enforcement forces of the Second Field Army, in cooperation with the Air Force, continue to raid the terrorist strongholds," the statement read.
The security forces destroyed a four-wheel-drive vehicle, killing militants inside while they were preparing to attack a security installation, the statement went on to say.
The security forces also destroyed another vehicle loaded explosive materials used in the manufacture of IEDs, it added.
The statement went on to say that The Second Field Army transferred administrative services needed by the people of al-Rawdah village in the area of Bir al-Abd, where a terrorist attack occurred on a mosque two weeks ago killing 311 worshippers.
Egypt has been battling a violent Islamist insurgency mostly in North Sinai that gained traction in 2013 following the overthrow of Muslim Brotherhood president Mohamed Morsi. The insurgents pledged allegiance to the Islamic State group in late 2014.
Hundreds of security force members have been killed as well as hundreds of militants.