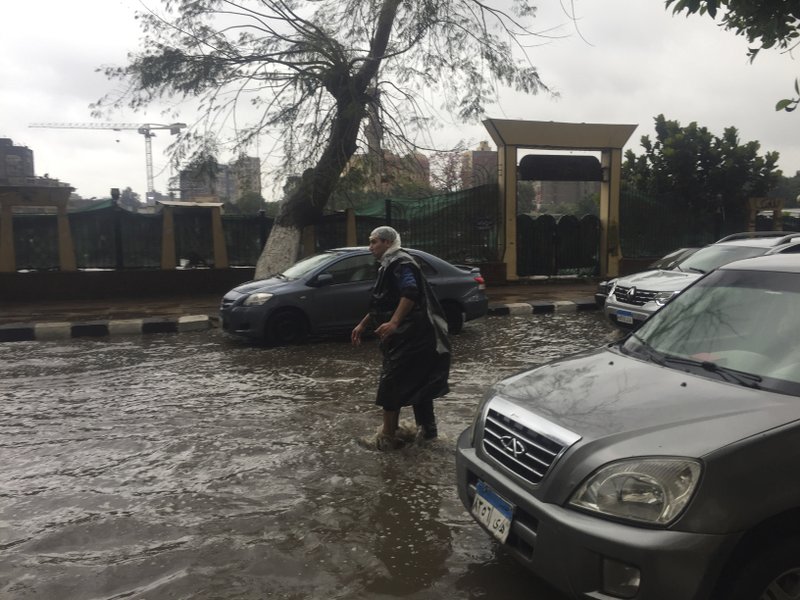 The Egyptian Meteorological Authority anticipates weather temperatures to remain relatively high despite rain until Sunday.
Meteorologists expected rainfall in varying intensity on the east and south of Cairo, northern Upper Egypt, areas of Lower Egypt, and North and central Sinai.
They had earlier warned of light to medium rain, up to thunderstorms, in separate areas of Greater Cairo, Lower Egypt, the Suez Canal cities, North Sinai, northern Upper Egypt, the Gulf of Suez, and the far west of the country.
The EMA called on citizens to take the necessary preparations against rain.
Weather forecast on Tuesday:
Despite the rain, meteorologists anticipate weather temperatures to range in all parts of Egypt to between hot and very hot, especially in southern Upper Egypt.
Hot weather is predicted in Greater Cairo, northern Upper Egypt, Lower Egypt and the northern coasts.
The weather will remain pleasant at night in northern Upper Egypt and north of the country, and moderate in southern Upper Egypt and South Sinai.
Meteorologists said rain was expected in Giza and east Cairo.
Waves in the Mediterranean Sea would be moderate, ranging between one and 1.5 meters in height.
Waves will be moderate in the Red Sea ranging between one and 1.75 meters in height. Surface winds in both seas will be northwestern.
Maximum temperatures on Tuesday:
Alexandria 30C
Cairo 32C
Aswan 42C
Meteorologists expect temperatures to drop slightly over most parts of Egypt, Wednesday.
Maximum temperatures:
Northern coasts 28C
Cairo 31C
Northern Upper Egypt, South Sinai 34C
Southern Upper Egypt 41C
Weather temperature ranges until Sunday:
Northern coasts 27C- 32C
Greater Cairo 30C- 32C
Northern Upper Egypt 32C- 36C
South Sinai 33C- 36C
Southwen Upper Egypt 41C- 42C
Mist is predicted in the morning on agricultural and highway roads heading to and from the northern coasts, the cities of the Suez Canal, Lower Egypt, as well as Greater Cairo.
Edited translation from Al-Masry Al-Youm