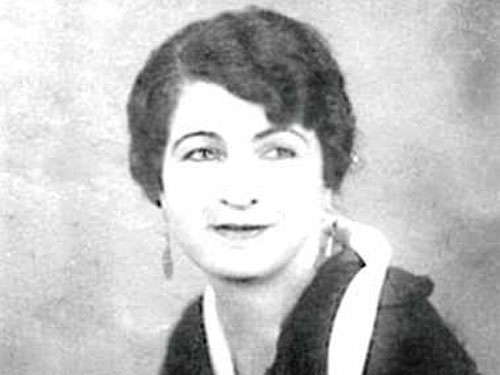 Fatma al-Youssef, also known as Rose al-Youssef, died on 10 April 1958,* leaving an unmatched legacy: that of a woman who managed to transform the intellectual scene in Egypt.
Youssef was a pioneering figure in the Egyptian theater and press. She was the first woman to launch a political magazine that survived for decades.
A native of Lebanon who moved to Cairo, Youssef started her acting career by joining the theater troupe of Aziz Eid (1884–1942), one of the founders of modern Egyptian theater. Eid's troupe had either trained or introduced most Egyptian leading actors and actresses of the time, such as Fatma Rushdi (1908–1996) and Mounira al-Mahdeya (1885–1965).
In her memoir, "Zekrayat" (Memories), Youssef defended the principles Eid promoted during his lifetime: setting up a creative theater movement that took its inspiration from novels that originated from the "genuine Egyptian soul." Youssef wrote that she was trying to do the same.
Following the popular revolt of 1919, which as she said created a new soul in Egypt, Youssef joined the Ramses troupe founded in 1923. She co-starred with leading Egyptian actor Youssef Wahbi in many performances, and is particularly remembered for her role as Marguerite Gautier in an adaptation of Alexandre Dumas' "The Lady of the Camellias."
The Ramses troupe is widely seen as the main factor behind the flourishing of a genuine Egyptian theater movement at the time. The troupe gave a chance to those who later became legendary stars of the scene, including Hassan Fayek (1891–1980), Stephan Rosti (1891–1964), Hussein Riyadh (1897–1965) and Amina Rizk (1910–2003).
But Youssef did not stop there. In October 1925, she started publishing her own magazine, Rose al-Youssef. It started as an entertainment publication, and gradually shifted to focus on covering the nation's political controversies.
The magazine's stance was anti-colonial and against the corrupt monarchy. Over the years, it gained wide popularity with the public, as well as the animosity of many pro-monarchy politicians.
A decade later, Youssef started issuing a daily newspaper that carried the same name: Rose al-Youssef.
She was a strong advocate of freedom of the press, and hence took on many fights to defend it. Therefore, even the liberal Wafd Party, which Youssef initially supported, imposed further restrictions on the daily newspaper. The paper eventually stopped. The magazine has thankfully survived until this day.
The magazine and newspaper have contributed to the literary and cultural movement in the country by encouraging writers and poets to use the publications as platforms to advance their ideas. Among their regular contributors were Abbas al-Aqqad (1889–1964) and renowned journalist Mohamed al-Tabii (1896–1976). Youssef also gave the chance to twin brothers Ali and Mostafa Amin to be part of her magazine, as well as her son, leading novelist Ihsan Abdel Quddus.
*Correction: This story previously misstated the year Youssef died.