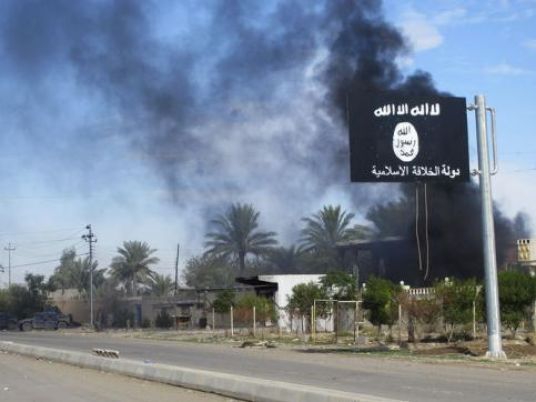 The United Nations World Food Programme (WFP) has declared itself "extremely concerned" by photographs showing its food parcels being handed out in Syria with Islamic State logos on them.
Images circulating on social media show food being distributed from cardboard boxes with "Islamic State in Syria" labels pasted over the WFP logo.
Islamic State, also known as ISIS or ISIL, rules over millions of people in Syria and Iraq, and keeping the public fed is part of its effort to portray its "caliphate" as a genuine government.
To get food and medicine to areas ruled by Islamic State, the U.N. says it relies on partner humanitarian organisations such as the Syrian Arab Red Crescent (SARC), which told Reuters on Tuesday that it negotiates access with Islamic State but distributes all aid itself.
"WFP condemns this manipulation of desperately needed food aid inside Syria," said Muhannad Hadi, WFP Emergency Regional Coordinator, in a statement late on Monday. The agency was trying to confirm the authenticity of those images, it said.
The photographs seemed to have been taken in Deir Hafr village, about 50 km from Aleppo, where WFP last August delivered enough food to feed 8,500 people for a month.
Vivian Tou'meh, head of communications for the Syrian Arab Red Crescent, said her group negotiates access with all parties in the war, including Islamic State, when delivering aid, but Red Crescent volunteers deliver all parcels themselves.
"Yes, there is coordination with all parties on the ground … We negotiate for access, we always do this," she said.
WFP said that in September Islamic State raided Red Crescent warehouses where food rations may have been stored. Tou'meh said she was unable to confirm the raid but would check.
Jitka Škovránková, who works for the Czech People in Need, one of the few aid groups working in contested Aleppo city, said that her organisation decided to stop working in Islamic State territory in mid 2014 after the militants tried to control aid and set conditions on aid groups.
"There is too much pressure. They want to influence the aid delivery," she said, adding that Islamic State became more controlling after a U.S.-led coalition started bombing in July.
"(Islamic State) said: 'you are international so you shouldn't be here,'" she said. "We used to negotiate access with them. They had a much less extremist approach. They did not have the strength. They said: 'we are good soldiers, we are good Muslims.'"
People in Need still works in several areas controlled by other militants in Syria, including al Qaeda's official wing, the Nusra Front.
"We are working in areas under the control of Jabhat al-Nusra. It is fine. They forbid English in schools. That's the only thing we don't like," Škovránková said.
She said insurgent groups have pressured her aid organisation to donate relief, including one incident when militants came with arms to demand aid but were convinced to leave by aid workers. "We have never been forced to give it."