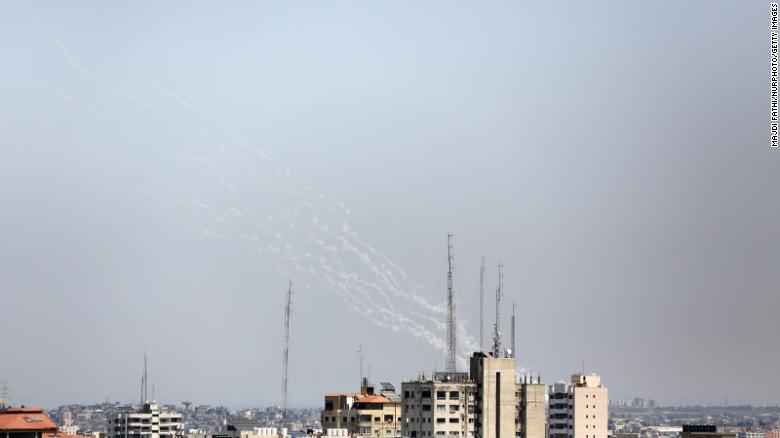 Sderot, Israel (CNN) – One of the most important aspects of the weekend's short but violent conflict between Israel and the Palestinian Islamic Jihad (PIJ) was what didn't happen: Hamas' involvement.
A ceasefire between Israel and the PIJ over Gaza that went into effect at 11:30 p.m. local time (4:30 p.m. ET) Sunday appeared to be holding almost 24 hours later. The conflict led to the death of at least 44 militants and civilians in Gaza, according to information from the Palestinian Ministry of Health. Fifteen of the dead were children. Israel insists most of those killed were militants, and that several civilians were killed by failed militant rocket launches.
Hamas, the militant group that runs Gaza, expressed support for the PIJ's actions. But it kept its much larger and more powerful arsenal of rockets out of the equation, while Israel's military made it clear from the outset they were focusing solely on PIJ targets.
That kept the conflict from spiraling into a larger, more dangerous confrontation, and closer to what happened during the 11-day war in May 2021.
So why not get involved? According to analysts and Israeli officials, one reason is the fact it is still only 15 months since the 2021 conflict that led to considerable damage and death in Gaza. Palestinians there are still rebuilding their homes, and Hamas is rebuilding its arsenal.
The Israeli government also believes its campaign of economic incentives — boosting the number of permits given to Gazans to cross into Israel for work — is succeeding.
Israel and Egypt have imposed a closure on Gaza since 2007, limiting access to the territory via land, air and sea, including tight restrictions on the movement of residents and the flow of goods.
If rockets are fired, Israel closes the border and the thousands of Gazans with permits can't work in Israel or get paid.
On Monday, a senior Israeli diplomatic official said Hamas was "an enemy not a partner … but there is cooperation we can do, predominantly through Egypt, to improve the situation in Gaza."
For showing restraint, Hamas will expect to be rewarded.
Lapid's first big security test
The weekend's conflict was also the first major military test for interim Prime Minister Yair Lapid. Unlike his predecessor Naftali Bennett, Lapid is not known for his military combat experience. But like US President Joe Biden's visit last month, it was another moment for Lapid to look like a real prime minister — images Lapid likely hopes Israelis remember as they had to the polls in November.
The conflict also brought about another breakthrough, albeit on a somewhat smaller scale: former prime minister, now opposition leader Benjamin Netanyahu met with Lapid on Sunday to receive a security briefing on the operation. It was his first security briefing since leaving power — even though by law it is supposed to be standard practice. Until this weekend, Netanyahu had boycotted the meetings.
After the meeting, Netanyahu said he supported the operation and gave his "full backing to the government, the IDF, and the security forces."
Parts of Gaza once again lie in rubble and the mourning continues for lost lives, but for everyday Israelis and Gazans, the conflict hasn't led to a substantial change in the political situation on the ground.