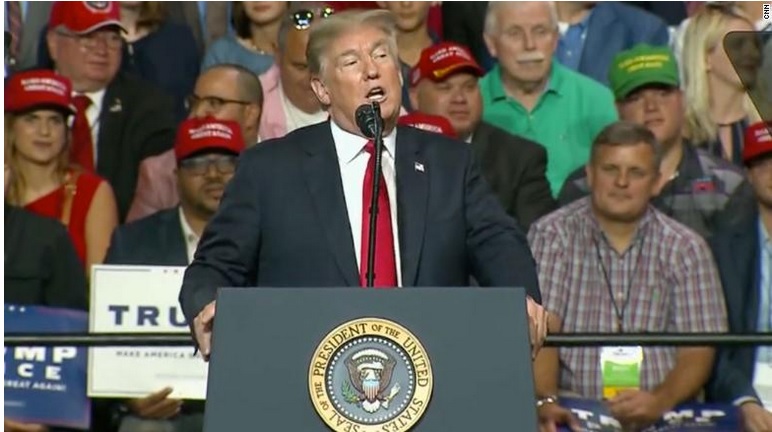 No one knows better than President Donald Trump what worked for him in 2016, and now he's going back to the well — trusting no one but himself — to stave off the threat of a Democratic rout in November that could cripple his presidency.
At a rowdy rally in Tampa, Florida, on Tuesday night that invigorated a crowd that booed Trump's enemies like it was a wrestling bout, the President showed exactly why he's itching to get back on the road for multiple rallies every day ahead of the midterm elections.
Trump will not be one of those presidents who only grudgingly tears himself away from the weighty affairs of state to campaign for party lawmakers. And if he suffers the traditional first-term bloody nose from midterm voters, it won't be because he didn't campaign hard enough.
"It's a lot easier to act presidential than to do what I do. Anybody can act presidential!" Trump declared, before tottering across the stage in a parody of a presidential walk, mocking the Oval Office conventions he has shredded since his inauguration, and admitting he likes to be a "little wild, have a little fun" at rallies.
It was an anarchical moment that highlighted the comedy that is an underestimated ingredient of Trump's demagogic technique. It helps bind him to supporters who feel bitter about Washington institutions they believe have cast them cruelly aside.
But it was also a flash of self-awareness by an idiosyncratic politician who intimately understands his own method as one of the great political entertainers, whose skill at fanning resentments is fundamental to his appeal for a large chunk of voters.
Going out on the road, where Trump shatters taboos and dodges accountability for his wild misrepresentations, offers him more than the chance to draw energy from those who love him.
The Tampa rally was a reminder that Trump — the man, the President and his entire political project — can be sustained only with the anger, the adulation and the chance to tear at the nation's most irritated political divides that he can find only in a campaign context.
Outside the auditorium in Tampa, Trump's former campaign chairman Paul Manafort was back in his cell after the first day of his trial. Speculation was raging over Trump lawyer Rudy Giuliani's confusing strategic shifts in his defense against the special counsel probe. Trump was being pilloried by journalists for a paucity of briefings and dodging their questions.
But Trump's rallies bathe loyalists in an alternative reality where things are going great with North Korea — despite reports to the contrary — in which he's running the most prolific presidency in history and fact-based arguments to the contrary are just "fake news."
Tuesday's event also featured ugly scenes of Trump supporters chanting abuse at journalists in town to cover the President — which appears to be a direct result of his rhetoric that the media is "the enemy of the people."
The outsider is back
Trump, nearly two years on from his shock election win, presented himself to his closest supporters Tuesday as exactly the same outsider voice of the forgotten man and scourge of political correctness who romped to victory in 2016. He is playing to tangible evidence that his poor press and the disgust of establishment politicians are still the driving forces of his appeal among his base.
He once again blasted cancer-stricken Republican Sen. John McCain for his thumbs down vote helping to stall GOP efforts to repeal the Affordable Care Act, and he renewed his canard that he had made it safe for Americans to say "Merry Christmas" again.
The question for Trump fewer than 100 days from the elections, and as the pace is already heating up for his own re-election race, is whether the magic can work a second and then a third time outside the confined world of his political base — especially this year, when he is not on the ballot.
Or will the President find it impossible to transfer his appeal to candidates like Republican Rep. Ron DeSantis, who is running a campaign in Trump's image in Florida's gubernatorial primary and who basked in the President's endorsement on Tuesday?
Then there is the issue of whether Trump's off-the-cuff style — seen this week in his threats to shut down the government if he doesn't get funding for his border wall — will emerge as a distraction from the GOP message, and a negative for GOP candidates in crucial swing districts.
After all, Trump's presidency has produced a more credible narrative than GOP bosses may have hoped for earlier this year. They can tout strong economic growth, a President who is dominating the globe and two Supreme Court nominations that delight social conservatives — though of course that narrative of achievement will be robustly challenged by Trump's opponents.
Concern about the midterms
CNN's Dana Bash reported on Tuesday that the President is telling aides he wants to considerably increase the number of rallies he headlines. He is arguing he must take his fate into his own hands, a fact that might explain his recent manic tweeting.
The sources familiar with Trump's thinking also told Bash he is genuinely concerned about the outcome of November's elections, in which Democrats have perhaps a better than 50-50 chance of taking the House — and seriously curtailing his political power in Washington.
As in previous rallies, the President let his unease show on Tuesday, warning voters they need to be just as engaged as they were two years ago.
"To keep it going, we need to elect more Republicans. We need more votes," Trump said in Tampa.
The President also previewed the hard-core message on immigration that he will use to whip up the fervor of his base and turn his remarkable hold on the party he took over into votes at the polls in November.
"These are people that don't care about stopping crime. These are people who don't care about people pouring into our country when they shouldn't be here," Trump said, in a searing attack on Democratic candidates.
Trump boasted about second-quarter economic growth of 4.1%, said his tariff war was reviving American steel making, warned that America would no longer be a "puppet" and be ripped off by its allies, vowed to stand up for the National Anthem and beamed as the crowd chanted its anti-Hillary Clinton anthem, "Lock her up! Lock her up!"
Much of Trump's message might be radioactive in states where Republican House members are running in districts that went to Clinton in 2016 and that could decide the balance of power in Washington beginning in January 2019.
But everyone in the White House, and in the GOP hierarchy, has long since stopped trying to rein in the President. And Trump is making clear that after nearly two years of base-pleasing policies, he is not going to change what got him where he is.
As he put it Tuesday: "I am not like other politicians. You have seen what happens. I have kept my promises."