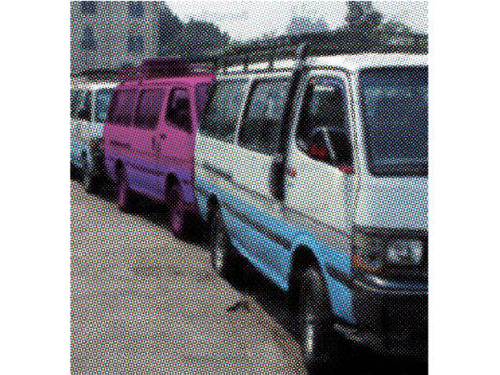 "Women only," a driver's assistant calls out loudly, while expertly hanging out the door of a microbus on the corner of Abbas al-Aqqad Street, in the upper-middle class neighborhood of Nasr City.
As he repeats the call, women start piling up to board the microbus, labeled with a bright orange banner reading: "Transportation for women only, by the Strong Egypt Party."
In January, the moderate Islamist party led by former presidential candidate Abdel Moneim Aboul Fotouh launched an initiative called "Transportation that respects women," in an effort to alleviate the problems many women face daily on public transport.
Female commuters have a very tough time traveling safely, says Fatma Badr, the mastermind behind the initiative and one of the party's founders.
"We have to squeeze our way through a crowd, particularly in rush hour," Badr says. "Otherwise, we'd be waiting around for hours trying to find vacant seats."
Hence the idea of women-only transport.
"Women-only microbuses offer an alternative to a public transport system that is failing to provide a basic, respectable method of transport which meets women's needs," she says.
Sexual harassment has escalated in Egypt in recent years. According to a government study at Cairo and Monufiya universities, female passengers constitute a vulnerable segment of the population, with 68 percent of the women questioned saying they had been subjected to either verbal or physical harassment.
"It's very irritating to be pressed against strangers for hours but I have no other choice. I can't afford to spend my entire salary on exorbitant taxi fares," says Yasmine Moawad, 36, who travels two hours every day from her home in Nasr City to her job in 6th of October City.
Azza Lotfy, a first-year college student, says that being sandwiched between two strange men can be particularly difficult, rather than sitting by a window, for example, where she would be seated next to just one man.
For her, women-only microbuses are a much better option.
"They are far more comfortable and safer than mixed microbuses," she says.
Though taking a microbus is a little safer than a public bus, where harassers can hide behind anonymity, the risk of a woman experiencing any form of harassment remains still high.
"I have been subjected to groping more than once in microbuses. Sometimes, I don't have the guts to scream out loud or beat the harasser because I don't want to make a scene," says a fourth-year student, Mona, who didn't want to provide her last name. "I just scold him and get off the microbus, but this doesn't satisfy me because I haven't taken disciplinary action against him."
In an attempt to avoid getting molested in crowded conditions, Mona has stopped using mixed transportation and now prefers to take women-only microbuses or metro cars travelling to and from her working-class neighborhood of Bulaq al-Dakrur.
Lamia Abdel Hakim, another college student, agrees, calling for more public and private bus routes offering women-only services.
"We are in dire need of implementing this system in public buses, as we do in metro trains," says Abdel Hakim, who adds that she sometimes experiences harassment on her way back home at peak hours.
The idea has received a positive response from older women as well.
"Young men do not show respect for the elderly anymore. No one wants to give up their seats, so I sometimes spend the whole journey standing up," says 61-year-old Zeinab Shokry.
She says that public buses are not equipped to meet senior citizens' needs.
"At my age, of course, I cannot hop on and jump out the bus like young people," Shokry says. "So it's much easier for me to find a vacant seat in this type of microbus without scrambling to catch the bus."
While the party's idea is still in the experimental phase, the system has started on a small scale in front of Cairo University, where hundreds of students spill out into the streets after finishing their lectures.
On all Cairo metro trains, the middle two cars — the fourth and the fifth — are allocated to women, as a way of confronting sexual harassment. However, women still have the right to share other train cars with men.
The Egyptian Railway Authority followed in the footsteps of the metro last February by providing women-only train cars. However, the policy failed due to a lack of control and monitoring.
Some rights and women's groups, however, have criticized the idea of women-only transport, citing concerns about gender segregation.
In 2008, a court dismissed a lawsuit filed by two lawyers demanding the cancellation of women-only cars on the grounds that such segregation constituted a violation of gender equality.
The court ruled that reserving cars for women did not fall under its jurisdiction, adding that Islamic law puts an emphasis on respecting women, which obligates the state to secure them.
Nehad Aboul Komsan, head of the Egyptian Center for Women's Rights, strongly criticizes the segregated transport plan, describing it as "moving cages for women."
"The women-only transport concept paves the way for the marginalization of women in society and is detrimental to the recent progress Egyptian women have been striving to achieve," Komsan says.
The rights advocate and lawyer points out that a short-sighted implementation of women-only public transport ultimately creates a deepening, long-term social issue.
"The exclusion of men from public transport cars provides a superficial solution and does not address the fundamental problem we are confronting," Komsan explains.
She lists a number of ways to eliminate, or at least lessen, the problem.
"Monitoring committees should be formed to dig down and look at where the budget allocated to the development of public transport is spent by the Public Transport Authority and Transportation Ministry," she says.
"If the government provided more buses to citizens across governorates and imposed severe penalties on harassers, women would no longer be vulnerable to sub-human treatment," she adds.
Social researcher Ali Azab agrees that the women-only concept is dragging the country backward.
"It's a clumsy idea," Azab asserts. "Egypt has a high female population so, logically, we cannot end up isolating all women from men to allegedly protect them," he says.
He believes the best way to fight the mounting sexual harassment problem is by raising awareness about violence against women through public education and media, in creative and simple ways that could easily convey the message to everyone.
This piece was originally published in Egypt Independent's weekly print edition.