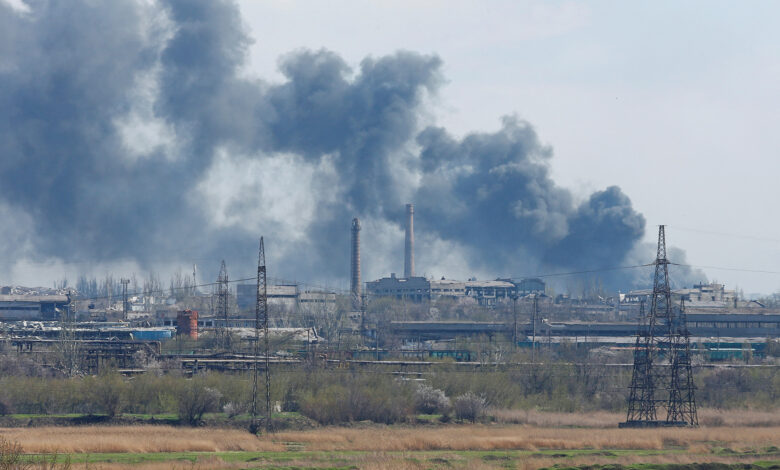 The Soviet victory flag from World War II is beginning to appear across occupied parts of Ukraine ahead of Russia's May 9 WWII Victory Day celebration.
The red flag — flown over Berlin's Reichstag on May 9, 1945, when the Nazis surrendered to the Soviets — bears the Soviet hammer and sickle insignia with the inscription, "150th Rifle, Order of Kutuzov Second Class, Idritz Division, 79th Rifle Corps, 3rd Shock Army, 1st Belorussian Front."
May 9 has since become a revered holiday in Russia and the flag an important icon.
Russian troops raised a large flag as part of a staged propaganda stunt in occupied Kherson, videos published on Tuesday show. Propaganda videos published on Wednesday by Russian-backed separatists in Kreminna showed troops fixing the victory flag to a Ukrainian government building.
Kreminna fell under Russian and Russian-backed separatist control earlier this week, Ukrainian officials said.
The flag was also placed atop the regional council building in the Russian-occupied town of Henichesk in Kherson province. A statue of former Soviet leader Vladimir Lenin was reinstalled in front of the council building earlier this week, CNN has previously reported.
Two European officials told CNN that Russian forces are feeling "self-imposed pressure" to achieve any semblance of a victory ahead of Russia's May 9 Victory Day celebration. Russia generally marks the holiday with a military parade through Red Square and a speech from President Vladimir Putin.