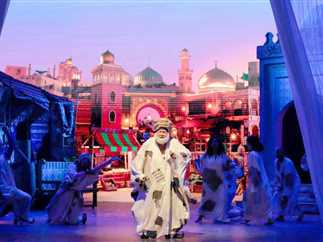 Egypt's Censorship Committee of Artistic Works has authorized the play "Yama fel Gerab ya Hawy" starring actor Yahya al-Fakharany to hit the theater at the end of August.
Magdy al-Hawary, director of "Yama fel Gerab ya Hawy" announced the decision, expressing his happiness that the play was approved by the committee.
Hawary said that he also appreciates the committee's praise of the show's technical elements, stressing his pride in the play's team, all the way from the big stars to the theater's youngest employee.
"Yama fel Gerab ya Hawy" is based on the masterpiece novel of Bayram al-Tunisi "A Night of a Thousand Nights" and contains the same exciting and charming atmosphere.
Although the play predominantly comedic, it includes all theatrical elements of suspense and conflict in events that combine love, betrayal, conspiracy, and power struggles.
Hawary promised the latest techniques and a fresh perspective in this play. 
A large number of illustrious stars are making their debut in this work, including Iyad Nassar, Mohamed al-Sharnouby, Carmen Suleiman, and Sherif al-Desouky in his first work after undergoing the amputation of his foot, along with theater stars Sama Ibrahim, Lubna Wanas, Nasser Seif, Alaa Quqa, Reda Idris, and Ismail Farghaly.
An official source in Cairo Show announced that a press conference of the show will be held at the Bibliotheca Alexandria and that reservations for the event were made available a few days ago on the library's website.
The play will come to Cairo on August 26, 27, and 28 and show at the Cairo Show Theatre in Cairo Festival City. 
The introduction and conclusion poems are for poet Hassan al-Mahdy, and it's composed by musician Mustafa al-Halawany, who also redistributed the original tunes for the show. The clothes were designed by Nevin Raafat, and the decor was designed by Karim al-Mahdy.
Fakharany's last work on stage was the "King Lear" play in 2019.
Edited translation from Al-Masry Al-Youm