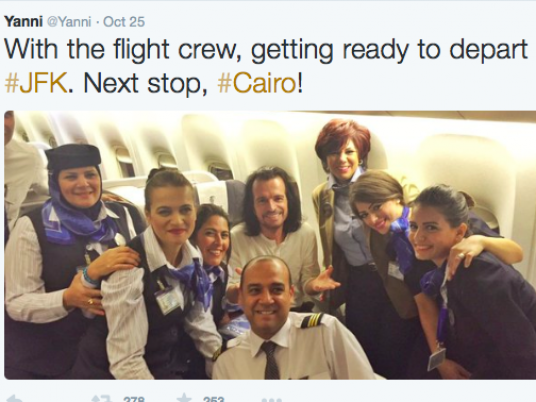 Yanni's long-awaited concert will soon take place in Egypt, but few are aware that he is also here to film a promotional movie the government hopes will help boost tourism.
After five years of negotiation, world renowned musician Yanni will put on a live concert on October 30 and 31 at the Giza pyramids, as well as provide the country with an unrivaled opportunity to have him promote Egypt abroad.
Following an agreement with Tourism Minister Hesham Zaazou, the 60-year-old pianist, music producer and keyboardist will film a short movie that will be comprised of Yanni's visits to the country's most popular tourist attractions.
According to Ashraf Hareedy, the CEO of the concert's organizing company Promo Tours, the movie will be shot with 4k Sony professional video cameras that use cutting-edge technology. These cameras have already been imported, following Yanni's request.
Promo Tours also signed an agreement with Sony Pictures Home Entertainment to display the movie across its 24,000 customer service centers' screens around the globe for six months.
The Tourism Ministry coordinated with the company to hold a press conference prior to the concert, inviting both international and local press and media outlets, in an attempt to stimulate a positive image of the country and its safety.
Hareedy expressed optimism about the concert's outcome, pointing out that hundreds of tourists from different European countries purchased tickets online.
Additionally, Egypt is rolling out the red carpet in its efforts to provide the star with an invaluable experience in Egypt.
Top executives from EgyptAir bade Yanni farewell at JFK airport in New York, while both Tourism Minister Zaazou and Cairo International Airport head Ahmed Genana welcomed Yanni upon his arrival at Cairo International Airport, where some of his prominent musical compositions were played on the airport's loud-speakers.
The eminent musician has already expressed his unbound excitement for his visit to Cairo, as he could not stop posting pictures and videos on his social media platforms, even before setting foot in the land of the pharaohs.
Prior to leaving New York City on October 25, Yanni posted more than one picture of himself with the EgyptAir flight crew on both Twitter and Facebook saying, "With the flight crew, getting ready to depart JFK. Next stop, Cairo!"
Upon his arrival, Yanni posted a picture of a chocolate box he received during his flight to Egypt on his Twitter account. The customized box of chocolates shows a photo of Yanni in front of the Giza pyramids, with the words "The Dream Concert" on it, the name of his upcoming concert in Egypt.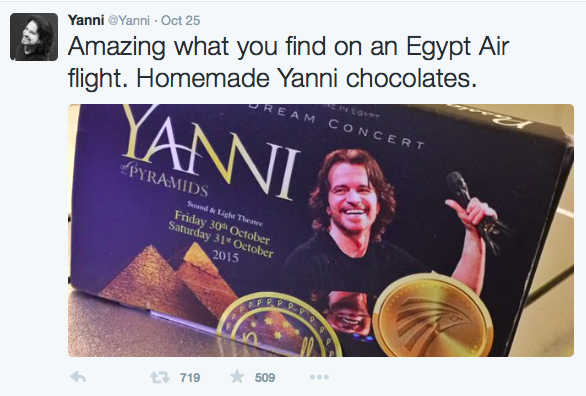 Yanni's music is known for its originality and intricacy as he pushes the envelope by intertwining jazz, classical, soft rock and world music.
Accordingly, it comes as no surprise that the sky is the limit when it comes to writing his compositions. His fresh, innovative inspiration–which is derived from various musical cultures from around the world–along with his creative ability to interlace an array of exotic instruments, have produced his signature music, known as "an eclectic fusion of ethnic sounds."
At least 14 of the Greek-American musician's albums have topped the Billboard's "Top New Age Album" category.
Performing concerts at historic sites is another unique feature that marks Yanni's decades-long career. India's Taj Mahal, China's Forbidden City, the United Arab Emirates' Burj Khalifa, Russia's Kremlin, Lebanon's ancient city of Byblos and Puerto Rico's El Morro castle are among the historic monuments where he has held memorable concerts. Performing at the pyramids will add to his already illustrious list of exotic concert locations.
Yanni's concert at the Sound and Light theater at the Pyramids of Giza is scheduled to be followed by another performance in the United Arab Emirates on November 6.