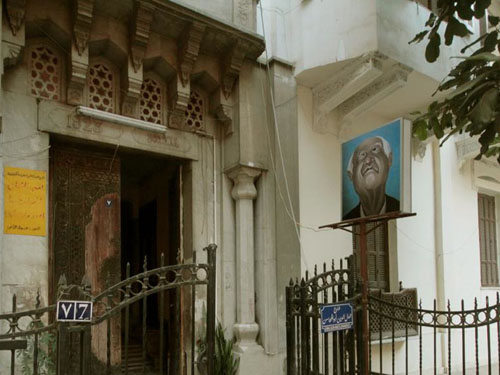 Despite some disappointments and tragedies, this has been an unusually exciting year for contemporary art in Egypt. Significant independent initiatives that may have seemed unimaginable a couple of years ago have been launched, while some well-established arts organizations upped their game.
In July, two important organizations took over impressive new spaces in Cairo. Medrar for Contemporary Art (founded in 2005), which supports young artists with an emphasis on new media arts, moved to a large space in a grand building in Garden City. 100Copies, founded as a record label in 2006, launched its live venue and recording studio in an office building off Talaat Harb Street in downtown Cairo, creating a buzz with at least two concerts per week.
An alternative space for cinema, Cimatheque, though still being constructed and scheduled to launch officially next year, has been hosting regular screening programs for much of 2012. The venue, housed in two apartments knocked together in an old building on Adly Street, will have an analogue film laboratory, viewing stations, and a library as well as its screening room. They have plans also to organize training programs over the next year.
An art space with a marvelously slippery name, Beirut, which has taken over a 1940s villa in Agouza, seemed to open gradually over the second half of the year. Its first exhibition, of a series of work by Maryam Jafri called "Global Slum" opened in October. Able to bring foreign artists of international renown to Cairo, it has also hosted a workshop run by German filmmaker Harun Farocki and curator Antje Ehmann, and a screening program of Farocki films alongside discussions. The current group exhibition "What does a drawing want?" involves talks, screenings and other events — including an artistic intervention in a previous printed edition of this newspaper.
In the atmosphere of flux and upheaval over the past year, various other smaller art initiatives emerged. To give two quite different examples in Cairo, a community arts space called 10 Mahmoud Basiouny was set up in downtown at the beginning of the year, while 6 Contemporary Arts, a commercial gallery attached to an antique store in Zamalek, opened in October.
The short-lived Table Museum, an artist-run "micro art space" in a flat in Garden City, commissioned small month-long solo exhibitions from January to August. The exhibitions were accompanied by discussions. The space's unusual dimensions offered artists a challenge, some showing work that was completely different from what they usually do, and others showing for the first time in Egypt.
Meanwhile, the participants of the second year of the independent study program MASS (founded in Alexandria in 2010) completed the program with a brief group show, and the fruits of the Contemporary Image Collective's first two artist-led mentorship programs were shown in the critically acclaimed "Parenthesis Show" and as part of Photo Cairo 5.
Though the situation in the country means nobody knows what will happen next, there are rumors that more art spaces will open and major changes will be made to already existing spaces over the next year. It certainly feels like an important moment to be involved in art-making in Egypt.
This piece was originally published in Egypt Independent's weekly print edition.