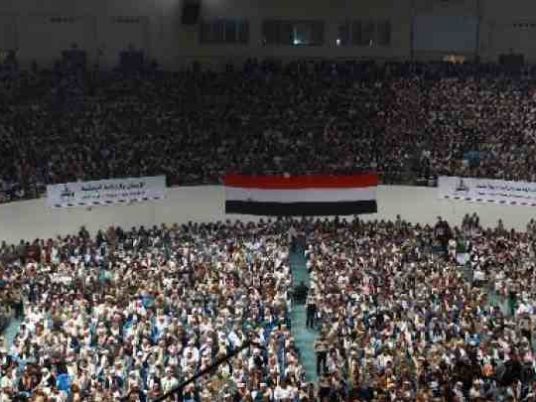 Yemen's Shiite militia and ex-president Ali Abdullah Saleh's party held a meeting boycotted by others parties Friday to discuss ending the country's political crisis, as protests hit several cities, including the capital.
The militia, which overran Sanaa in September, seized the presidential palace and key government buildings last week, plunging the country deeper into crisis and prompting President Abedrabbo Mansour Hadi and his prime minister to resign.
Militia chief Abdulmalik al-Huthi had called for a "historic" meeting to begin Friday, urging all political forces to join.
But only Saleh's General People's Congress party joined what is to be a three-day conference, heavily secured by the militia, which the former strongman is accused of backing.
Meanwhile, opponents protested against the Huthis in several cities under the slogan: "Revolt until the overthrow of the coup" forces, in reference to the militia.
They also demanded the release of scores of activists and journalists who have been rounded up by the Huthis since their overtake of Sanaa.
Witnesses said the militia kidnapped the head of a students union in the universities of Sanaa and Amran, Radwan Masoud, after Friday prayers.
Sanaa University has been the focal point of anti-Huthi protests, frequently dispersed by the militia firing in the air and detaining activists.
No violence was reported in Friday's protests.
Benomar said this week that Hadi and his cabinet were effectively under house arrest, and warned that violence could erupt at any time.
But he added that a power-sharing deal "was possible," according to two diplomats who attended a session during which he briefed the UN Security Council by video link from Sanaa.
But a faction of the separatist Southern Movement announced Thursday it would stop participating in the "pointless" talks brokered by Benomar, "which will lead the country into the unknown" and are taking place "under intimidation and a siege of the legitimate authorities."
In the central Baida province, protesters accused the UN envoy of failing to end Yemen's crisis. "Out, out Benomar," they chanted against the Moroccan diplomat.
The crisis has raised fears that Yemen, which lies next to oil-rich Saudi Arabia, could become a failed stated.