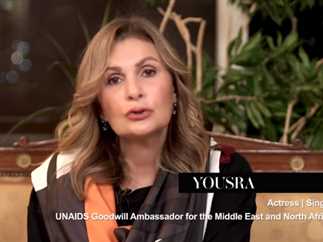 Egyptian Actress and singer Yousra has participated in a campaign for the Joint United Nations Program on HIV/ AIDS, which sends a message to world leaders to completely eradicate the virus by 2030.
She gave a speech at the beginning of the video, saying: "In order to be able to eradicate AIDS, we need to talk about it."
In addition to Yousra, a group of the most important international stars and public figures participated in the campaign, most notably: English musician Elton John, Princess Stephanie of Monaco, Canadian filmmaker David Furnish, Global Health Ambassador, Stephanie Seydoux, and American actress and singer Sheryl Lee Ralph, and First Lady of the Central African Republic Brigitte Touadera  as well as Winifred Byanyima, Executive Director of UNAIDS.
The video discusses various statistics on HIV infections around the world and its risks and damages over the past 40 years.
Yousra is the Goodwill Ambassador for the Middle East and North Africa, in the United Nations Program for Disease Control. She works to combat stigma and discrimination against people living with HIV in the Arab region, in addition to her multiple contributions to spreading awareness of the culture of HIV prevention and encouraging those infected to receive treatment.