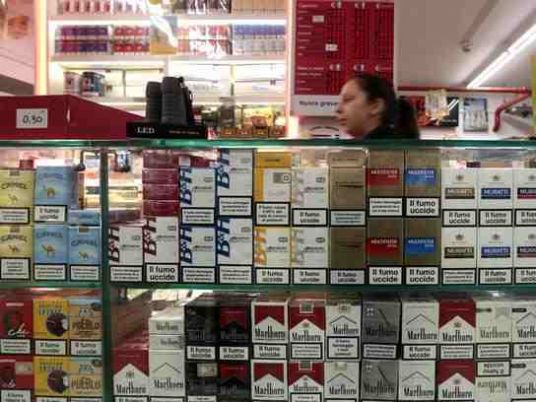 Public health advocates are stepping up pressure on the US government to quickly regulate and restrict access to e-cigarettes after new data showed use of the products tripled among high school and middle school children last year.
The figures released by the Centers for Disease Control and Prevention on Thursday raised concern among health officials who fear e-cigarettes will create a new generation of nicotine addicts who may eventually smoke conventional cigarettes.
Cigarette smoking fell more than 25 percent over the same period. E-cigarette proponents said the data could indicate e-cigarettes are diverting young people away from conventional cigarettes, a view rejected by tobacco control advocates. [ID: nL2N0XD1UH]
The Food and Drug Administration regulates cigarettes, roll-your-own tobacco and smokeless tobacco. It proposed extending its authority to e-cigarettes and hookah, among other products, nearly a year ago.
FDA spokesman Michael Felberbaum said on Friday the agency is "moving forward expeditiously to finalize the rule." Its goal is to release it in June.
But the potential for delay is considerable. The agency received more than 135,000 public comments on the proposal and by law must review them all.
The rule must also be reviewed by the Department of Health and Human Services and then by the White House's Office of Management and Budget, which analyzes the potential economic consequences of proposed regulations.
"This puts real pressure on every level of the administration to get this done," said Matthew Myers, president of the Campaign for Tobacco-Free Kids, referring to the CDC data. "It means business as usual won't solve this rapidly growing public health problem."
OMB has not yet received the rule, according to its website. Once it does, it has 90 days to review it, though that can be extended.
"There is always an opportunity for delay, but I think it will be much harder for the administration to exercise that opportunity now," said David Dobbins, chief operating officer at the anti-tobacco group Legacy. "It's up to the White House and HHS to make sure this regulation gets out as quickly as possible."
The proposed rule would ban the sale of e-cigarettes to people under the age of 18 and require FDA approval of new products. Public health advocates have also been pushing for a ban on flavored products, television advertising and internet sales, which they say attract children.
The agency has said the rule would be the foundational first step in a range of potential future regulations.
In the meantime, some states are moving to impose restrictions of their own. In February, Democratic Senator Barbara Boxer re-introduced proposed legislation that would allow the Federal Trade Commission to determine what constitutes marketing to children and would allow the FTC to work with states' attorneys general to enforce bans.
At least 43 states already have laws that restrict sales of e-cigarettes to minors and some are working to incorporate e-cigarettes into existing clean air acts that prohibit smoking in public places.
"As long as the federal government doesn't take uniform action, I think we will see action on a local level," Dobbins said. "People can differ about the appropriateness of e-cigarettes for adults but I don't think anyone disagrees on the appropriateness of giving them to children."