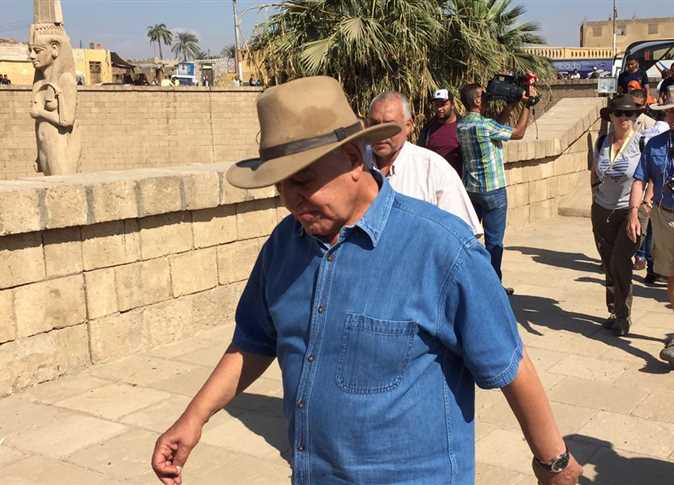 Zahi Hawass, former Minister of Antiquities and renowned Egyptologist, confirmed that he decided to take advantage of the global trend for the return of stolen African antiquities.
He especially called to restore the Rosetta Stone and the Planetarium, hoping that all Egyptians would participate in the campaign to restore the Rosetta Stone that he launched recently.
Hawass expressed, in a telephone interview with the "Cairo Talk" program, on a-Kahera wal Nas Channel, his sadness at the Egyptians' lack of interaction with his campaign to restore the Rosetta Stone.
The document was signed by a majority of foreigners who want antiquities return to Egypt, he said.
Hawass explained that there is an awakening in the whole world to restore looted antiquities, and this is an opportunity to complete the request for the return of the Rosetta Stone from the UK, which was unjustly donated by France to Britain.
If a million signatures is collected from Egyptians, Hawass can then present the document to the Prime Minister as an official request, he said.
In October, Hawass announced a document through which he requests the return of the Rosetta Stone from the British Museum.
The Planetarium in the Louvre Museum has been published on his personal website DR.Hawass.com.
He is also working effortlessly on his Facebook and Instagram accounts, and Change.org.
The document is ready to be signed by all lovers of the protection of Egyptian antiquities in Egypt and the  world over. 
Hawass added that the artifacts were placed under the Ministry of Antiquities before the 2011 revolution, in the Grand Egyptian Museum.
The return of these two antiquities to Egypt is an important recognition of the commitment of Western museums the Strain of colonialism of history and to provide compensation about this colonial past, he said.
The document will be sent to the British Museum and the Louvre after completion of signatures. 
The Rosetta Stone was discovered in July 1799, when an officer of the French expedition found it at Qaitbay Castle in the city of Rashid.
On September 27, 1822, the French archaeologist Jean-Francois Champollion was able to decipher the mystery of the stone and correctly read the ancient Egyptian signs, which resulted in the birth of Egyptology.