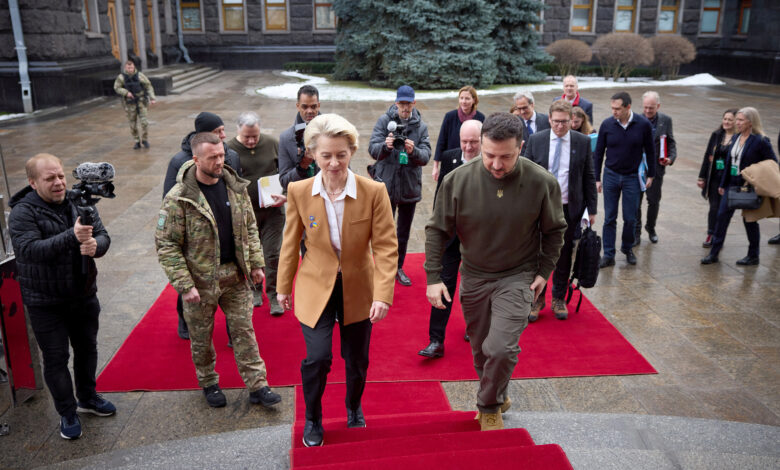 Ukrainian President Volodymyr Zelensky called on Thursday for more punitive measures against Russia by the European Union and said he had discussed a 10th EU sanctions package with European Commission President Ursula von der Leyen.
"And now the pace of sanctions has somehow slowed down in Europe, and the terrorist state on the contrary is adapting to the sanctions, and we need to catch up. We need to correct this," Zelensky said, speaking alongside EU Commission President Ursula von der Leyen who is in Kyiv on an official visit along with bloc's foreign policy chief Josep Borrell and other officials.
"This is a common European task, to reduce Russia's capability of evading sanctions. And the sooner this task is achieved, the closer we will be to the defeat of the Russian federation," he added.
"It is not enough to have success on the battlefield. We need faith in a free Europe, in a peaceful Europe, in a united Europe," he also said.
"We are making [Russian President Vladimir] Putin pay for his atrocious war," von der Leyen said, speaking after Zelensky.
"Before Russia started this war, we were very vocal about the severe economic costs we [would] impose on Russia if it invades Ukraine. And today Russia is paying a heavy price, as our sanctions are eroding its economy, throwing it back by a generation. The price cap on crude oil already costs Russia around 160 million euros ($176 million) a day and we will keep on turning up the pressure further," she said.
"Europe has been by Ukraine's side since day one, because we know that the future of our continent is being written here. We know that you are fighting for more than yourselves. What is at stake is freedom. This is a fight of democracies against authoritarian regimes," the EU commission president added.
Russian President Vladimir Putin "tries to deny the existence of Ukraine but what he risks instead is the future of Russia," von der Leyen warned.
Past EU sanctions: In December, the European Union implemented its ninth sanctions package against Russia that added nearly 200 individuals and entities to its sanctions list. It included armed forces, members of the Russian parliament and defense industrial companies.