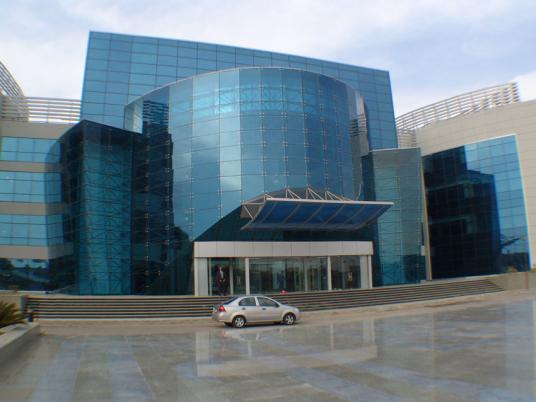 Recruitment for the Zewail City of Science and Technology's research department is now underway as the scientific mega-complex in 6th of October City is currently seeking personnel to serve as the institute's scientific backbone.
This is the first time that the institute will be active since Zewail City's inception by Egyptian Nobel laureate for chemistry, Ahmed Zewail, back in 1999.
The city was envisioned by Zewail as a scientific hub where the best Egyptian scientists could engage in state of the art scientific research. However, years of delays and bureaucratic issues with the previous regime hindered the initiative, leaving its buildings vacant for over ten years.
The previous regime has often been criticized for failing to encourage scientific research, which forced many scientific and technical professionals to migrate abroad.
In an attempt to counter this, erstwhile Prime Minister Essam Sharaf inaugurated it by ministerial decree in May last year.
A fundraising campaign was then initiated by Zewail, and after many months, during which an international board of directors comprised of six scientific Nobel Prize laureates was established, the recruitment and directorial appointment processes began. Now, the institute will be active for the first time since 1999.
At the beginning of February, a Center for Theoretical Physics (CTP) was set up, comprised of director Shaaban Khalil and his team of high level scientists specializing in astrophysics, high energy physics and particle physics, among other specialties.
According to Khalil, starting with the CTP was an obvious choice, as "theoretical physicists need only a quiet space, a pencil and a piece of paper" to do their work, he joked.
However, levity aside, Khalil expressed his deep excitement in being part of Zewail City, as he claims that the institute's philosophy has been the aspiration of Egyptian scientists like himself for years.
"For a long time, serious scientists have longed to reinvigorate Egyptian science by establishing a place free of bureaucracy, investor authority and external guidance, where we are able to focus purely on our research and push the boundaries to the maximum. This is it," says Khalil.
In a similar vein, the Center for Aging and Associated Diseases was also founded last week, and will be directed by Professor Sameh Saad Ali from the University of California. He has yet to put a team together.
According to executive board member Mohamed Ghoneim, many other departments will soon be established in the coming months under the general banners of mathematics, biology, chemistry and physics.
Research will then most likely take place in specialized sub-fields such as nanophysics, biotechnology and pharmaceutical engineering.
Ghoneim is on the executive board with renowned Egyptian psychiatrist Ahmed Okasha, Managing Director of the Economic Research Forum Ahmed Galal and heart surgeon Magdy Yacoub, among others.
"Now we have begun the process of establishing who will be a part of this top level scientific community, all of whom will be approved by Ahmed Zewail himself," says Ghoneim. "This phase will plant the seeds for the future of the city."
Ghoneim stresses the importance of interdepartmental interaction and research, a major incentive for having Egypt's top scientists together under one roof.
Eventually, after sufficient recruitment takes place in the coming months, Zewail City will be comprised of three main sectors: a research institute, a university and a technology pyramid, which will function as a park and gathering place.
According to statements previously made by Zewail, one of the goals of the city is to encourage the adoption of scientific thinking and ethics amongst Egyptian citizens — hence the vital role of the technology park.
The university would provide Egypt's top science students access to the highest level of education. It is expected to be launched by September 2012, but could be delayed, Ghoneim says.
Ghoneim states that a maximum of 5,000 students will be permitted at a time, and that the university will be free of charge.
"It will be highly selective, and no student will pay," he says.
"Funding will be provided through continued campaigning and both national and international support. The student's capabilities will be their tuition fee."
Ghoneim believes this will bridge the large educational gap between Egypt's expensive yet specialized private schools, and the generalized education in state schools.
The third sector of the city, the technology pyramid, is expected to act as an interface between the high-level scientific community and society, including investors, technology entrepreneurs and graduate students, where the latest scientific developments can be easily accessed.
"The goal is to establish something akin to an advanced science museum, the contents of which will be modern — and Egyptian as well," says Ghoneim.
Khalil stresses Zewail City's importance to Egypt as a whole, explaining that it shows that Egypt's best scientists no longer have to leave to prestigious institutions abroad, but can remain at home.
"Now we see many of Egypt's best scientists who joined institutions abroad willing to come back to do research at Zewail City or be part of the board," he says. "This is remarkable, and exactly what Egypt needs given the current circumstances."
However, the city is not without its critical dilemmas. A couple of the buildings allocated to Zewail City previously belonged to Nile University, established in 2006 as a research institute, but deemed corrupt due to its association with Mubarak's former Prime Minister Ahmed Nazif.
Zewail has since asserted that Nile University will be included as part of the city, but the university has been left in limbo, without a home base, pending licensing.
Tareq Khalil, Nile University's president, has stated that any legal proceedings and licenses will have to be granted and obtained through Parliament, but these issues have yet to be addressed.
Meanwhile, Nile University and its students remain without a home, and many have criticized Zewail for not taking a more active role in their cause.