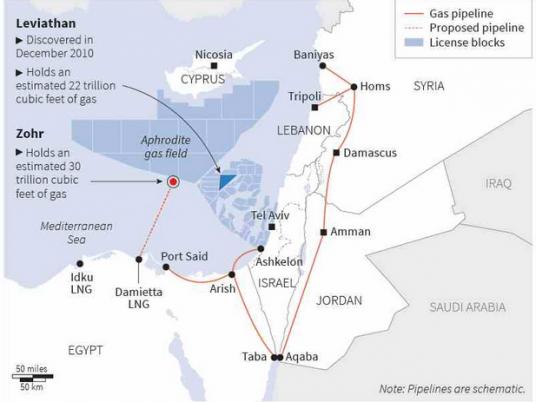 The huge Zohr natural gas field discovered by Eni off the coast of Egypt, could tip the country back into exporting liquefied natural gas (LNG), making the bright spot of demand it has created in an oversupplied global gas market short-lived.
Once an energy exporter, declining oil and gas production and increasing consumption had turned Egypt into a net energy importer, but the discovery of the largest gas fields ever found in the Mediterranean could reverse this.
Egypt entered the LNG market with a burst of imports earlier this year, making it one of the world's top growth markets, after leasing a floating storage and regasification unit (FSRU) from Norway's Höegh LNG for five years in April.
Just a few months later its fortunes changed with Eni's announcement of the discovery of the Zohr field that potentially contains 30 trillion cubic feet (tcf) of gas.
"We felt comfortable in Egypt's demand for LNG over a five-year period and we still feel that there's a good chance Höegh Gallant will serve for longer, but it all depends on how quickly local reserves are developed," said Richard Tyrrell, chief executive of Höegh LNG Partners LP.
In a sign of Egypt's strong import demand, Tyrrell said the Höegh Gallant was probably the best utilised FSRU in the world.
Egypt has since added a second FSRU leased from Singapore-based Norwegian gas shipping company BW Gas .
Offshore gas fields typically take several years to come on stream, however, as Egypt already has some of the infrastructure in place it's expected to be able to accelerate the process.
A source at the ministry of petroleum said the government expects production at Zohr to begin at some point in 2018, seeing LNG imports begin to decline as soon as the field comes online, with the hope that Egypt can stop importing LNG by 2020.
The source did not comment on any plans to export gas.
Egypt's energy supply will also be boosted by British oil major BP's plans to begin gas production at its north Alexandria concession in early 2017 rather than the previous timeframe of mid-2017.
Matthew Phillips, an analyst at shipping brokerage Clarksons Platou, estimated that for Egyptian LNG exports to resume, Zohr would need to produce close to its full potential, to offset falling domestic production and imports via the two FSRUs.
"Not too many people are optimistic the gas price is going to be higher anytime soon – either LNG or natural gas, so that takes the pressure off any importer, it buys Egypt some time to figure out what they want to do with their domestic gas strategy," said Phillips.
LNG prices LNG-AS have halved over the past year as new projects have caused a glut in supply.
"LNG was viewed as a luxury for some countries in the past versus say coal and the price gap has narrowed considerably," Phillips added.
For now, Egypt will continue to import LNG, with consultancy Energy Aspects forecasting volumes of 0.7 million tonnes per month in the first quarter of 2016.